Home
This Indiana County web site is intended to serve family historians and genealogists. Information has been made available from many sources including our volunteer family historians.
If you have questions about the Indiana County area or an ancestor who may have come from here, please feel free to check our Lookup Volunteers page. Or, you might get results by submitting a query to either of the Indiana County Forums on the right. The middle entry, RootsWeb-Indiana (County), is probably the easiest to use. Or you might check our Surnames page for the ancestor you're looking for.
Please enjoy the fruits of many people's labor. Any comments would be greatly appreciated. Here is a little more information about this web site.
Rootweb.com down, as of Dec 23, 2017
On Dec. 23, 2017 it appears that access to the Rootsweb.com domain has been disabled, stopping access to Rootsweb-based web pages. Ancestry.com generated a blog post saying that they had a serious security issue and would advise in a couple weeks. This web site links to many Rootsweb sites and as a result, you may experience broken links. When service is restored the links should start working again. In the mean time a fair amount of Indiana County information remains for you to explore.
Geography
Indiana County is a western county of Pennsylvania in the United States of America. It was created by an Act of the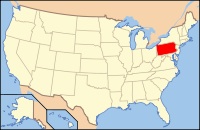 Pennsylvania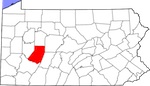 General Assembly, March 30, 1803, from territories of Westmoreland and Lycoming Counties.   It is also helpful to know cities, townships and boroughs that are within the county boundaries, as this drawing shows. Adjacent counties are Clearfield and Cambria Counties to the east, Jefferson County to the North, Westmoreland County to the South and Armstrong County to the West. The above Pennsylvania and U.S. images are courtesy of wikipedia.org.
Wikipedia
Present day information is well documented by Wikipedia pages that cover Indiana County and its county seat Indiana Borough. An attempt is being made on this web site to display historical views of this area.
Local Societies
A wonderful resource is the "Historical and Genealogical Society of Indiana County Pennsylvania" that has been supporting historians and genealogists since 1938. Of interest is their article about Clarence David Stephenson who devoted much of his life to discovering and writing about Indiana County.
Coal Mines and Iron Works
Pennysylvania and Indiana County's main industry was coal mining for many years. Indiana County had its share of iron works where your relative might have worked.
Newspapers
The Library of Congress Web Site, Chronicling America http://chroniclingamerica.loc.gov/search/titles/ was used to produce a list of Indiana County Newspapers. This is a list of titles (no content) of newspapers with their estimated publication dates. When looking for newspaper content, it should help to know which newspapers existed during the time period. Any area of the United States may be searched for titles.
Transcripts from a few selected historical Indiana County newspapers are viewable on our Newspapers web page. Some are listed below:
Current day newspaper Indiana Gazette serves Indiana County and Trib Live has a section on Indiana County.
FamilySearch for Indiana County
A free historical resource is FamilySearch's Research Wiki Page for Indiana County.
Links to web sites that are not part of the USGenWeb Project are provided for your convenience and do not imply any endorsement of the web sites or their contents by The USGenWeb Project. Links to pages that don't have our left and right-hand navigation, will open in new browser window.
Indiana Township, Allegheny, Pennsylvania
Just to be confusing, there is an Indiana Township in Pennsylvania, but it is in Allegheny County. Please don't get it confused with Indiana Borough or Indiana County, Pennsylvania, the subjects of this web site.
This web page was updated on December 23, 2017
.