Crawford County, Pennsylvania
PAGenWeb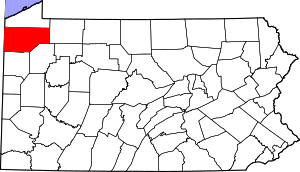 Crawford County Cemetery Inscription Books. Info from Tom Yoset's site

USGS Cemetery Listing for Crawford County. Links to maps for many Crawford County cemeteries.

The Political Graveyard - Crawford County

This and That Tips on Cemeteries

Explanation of carvings and terms used on headstones.

Sources For Cemetery Names

Cemeteries Online

Let's build Crawford County Online Cemetery Listings.

Add your ancestors by contacting the Crawford County Coordinator.

There are many cemeteries in Crawford County that have not been transcribed or photographed.
If you want to volunteer your time or information, please contact the Crawford County Coordinator.

Many hands make the load lighter.

New pages for the Crawford County Cemetery Listings. Some of these cemetery pages have only a few listings and many have no listings at all. Most have either a map or township location.
This page was last updated 31 Aug 2021