CHAPTER XVII.
DOYLESTOWN.
THE "Society Lands," comprising nine thousand acres in central Bucks county (a large portion of which was included in this township), were surveyed to the Free Society of Traders as part of their extensive grant from Penn in 1682. The trustees of that corporation disposed of this land in l726, when that portion in Warwick, or south of Court street, Doylestown, was purchased by Jeremiah Langhorne. A considerable tract adjoining this on the north and west was secured by Joseph Kirkbride, and thus, in 1726, the site of the town and a large portion of the township came into possession of these two individuals. This was a fortunate circumstance in the settlement of the region. Although the "Society Lands" presented advantages equal to those of Buckingham valley, the southern part of Warwick, or the western part of New Britain, they were not open to purchase from the original owners, and the latter made no attempt to carry out their plans regarding the "Manor of Franks." The extensive and fertile area that formed this broad domain seems to have marked the limit of colonization. But with the dissolution of the Society and the transfer of its lands to others this obstacle was removed. It was the obvious intention of Langhorne and Kirkbride to open the region to settlement, and the first actual settlers made their appearance during the ten years immediately following the time of their purchase. Among this number were the following: Charles Stewart, a Scotchman and a gentleman of culture, who subsequently became a captain in the French and Indian war; Benjamin Snodgrass, an emigrant from Ireland, whose whole family perished on the voyage, except one daughter; James Meredith, the father of Dr. Hugh Meredith, who removed from Chester county to Castle valley; Walter Shewell, from Gloucestershire, England, the founder of Painswick Hall, still the homestead of his descendants; Edward and William Doyle, the former of whom purchased land from Kirkbride in 1730, and the latter emigrated from the north of Ireland five years later. These persons all arrived prior to 1735. David Thomas, William Wells, John Marks, Thomas Adams, Thomas Morris, Hugh Edmund, Clement Doyle, William Beal, Joseph Burges, Nathaniel West, William Dungan, Solomon McLean, and David Eaton were residents in 1745. At his death in 1742, Langhorne willed to two of his negroes, Joe and Cudjoe, a life-interest in certain lands included in that part of the borough south of Court street and east of Main.
The principal inducement with the earliest settlers in locating here was the low price at which lands were for sale as compared with what was asked for improved tracts nearer the river or the city of Philadelphia. It is scarcely possible that any one of them would have predicted the removal of the county-seat, which occurred three-quarters of a century later, but long before the possible existence of a town in the midst of their settlement dawned upon the minds of the most sanguine, the present site of Doylestown became an objective point, easily accessible from all directions by two of the much-frequented highways of the period— the Easton and Swedes' Ford roads. The former was opened from Philadelphia to Round Meadows (Willow Grove), thence to the governor's residence in Horsham, and thence, upon petition of inhabitants of Plumstead, it was extended to Dyer's mill in 1723. That part of the road from Coryell's ferry (New Hope) to Norristown, between the York road and Simon Butler's mill (Chalfont), was opened in 1730. These highways cross as Main and State streets of the borough, and to the advantages thus conferred the existence and present importance of the town are directly traceable.
Fifty years after the purchase of 1720, Joseph Kirkbride, Edward and William Doyle, Joseph and Samuel Flack, William and Robert Scott owned the site of the town and much of the land adjacent. The Doyles were the oldest and possibly the only residents. William opened an inn in 1745, and at that time there was no other public house within a radius of five miles. He continued this pioneer hostelry for thirty years, and during all this period it had no other name than Doyle's tavern. The proprietor removed to Plumstead at some time between 1774 and 1776, and from that time to this the family has not been represented in this community. But the name was already stamped indelibly upon the locality.*
The site of Doyle's inn was in Warwick township, probably at the intersection of Main and State streets. Of subsequent public houses there have been quite a number. Lenape building occupies the ground upon which a tavern stood in 1773 and for more than a hundred years after that. Joseph and Samuel Flack were the proprietors from 1773 to 1791. The Fountain house was kept as an inn by Charles Stewart in 1780. Enoch Harvey became proprietor in 1800. The old mansion house (opposite) was first licensed in 1813. The Clearspring hotel was known as "Bucks County Farmer" in 1812, and kept by Joseph Overbach in 1815. The Monument house was known for many years as the Court inn. The Ross mansion, probably the oldest house in the town at present, was kept as a hotel in 1812, and known as the "Indian Queen."
Private residences at the beginning of this century were few and far between. Main street was lined with woods from Broad to the Cross Keys, and southward from Ashland, Court street, and the farms east of the village were also heavily timbered. There was a log school-house on Main below Ashland; a frame building upon the Lenape lot and another nearly opposite, the residence of Dr. Meredith; the old stone house of E.M. Armstrong; the dwelling of the village blacksmith, Mr. Fell, now incorporated in the Ross mansion; the house of George Stewart, where the Intelligencer building stands, the frame building removed about ten years ago by N.C. James, and the predecessor of the Ross stable. Upon a map supposed to have been prepared in 1810 there are indicated the locations of twenty houses, viz., Enoch Harvey, two, his hotel and house adjoining; Shewell, Hugh Meredith, and Asher Miner, on the west side of Main street between State and Broad; Seruch Titus lived in the Lyman house, and worked at his trade as a saddler in a shop that stood in Dr. James's yard; S. Wigton lived nearly opposite; H. Robinson and Elijah Russell across the road from the "Clear Spring" hotel; Morris where Lenape hall stands, and another of the same name a little farther down Main street; Magill en the other side of the street; Daniel and Jonathan McIntosh, who came from Winchester, Virginia, in 1800, lived where the house of Mrs. Harriet Smith stands; Josiah Y. Shaw came down from Plumstead in 1808, and built the house opposite; along the north side of State street appear the names of G. Hall, about where the spoke-works are located; Meredith, between Main and Pine, I. hall between Pine and Broad, U. DuBois at the corner of Broad, and J. Wigton further on. The academy building completes the number. At the time when the court-house was built (1813), there were but one or two buildings from the angle of Main and Court streets to the borough limits on the latter. The rate of growth at that period is shown by the fact that only one house, and that of logs, was built on the east side of Court between Main and the academy in the next eighteen years. The stone house of Mrs. A.J. Larue, at Broad and Main, was built by Septimus Evans.
The year 1813, or rather the event in county affairs which signalized it, the removal of the seat of justice from Newtown to Doylestown, gave to the latter its individual character among the towns of Bucks, and also the impetus that has resulted in its social and political influence.** There was at that time a population of about two hundred. The most distinguishing feature of the place was Asher Miner's newspaper, the "Pennsylvania Correspondent," established in 1804. The literary prestige thus gained has never been relinquished, and Doylestown journals rank with the foremost of the country papers in this state. With the erection of the court-house there was an immediate accession of people of wealth and culture. The legal and medical professions have been represented here by some of their ablest members in this part of the state. In the literary, religious, and social activity of the town, and the general interest manifested in educational matters, there is every reason to believe that its distinguishing characteristic will continue to be the intelligence and culture of its people.
The inhabitants of the new county town were not slow to appreciate the importance which this dignity conferred, and also to experience the serious disadvantages of being situated as they were upon the extreme portions of two different townships; for Court street was then the boundary between Warwick and New Britain. The local supervisors were remiss in their attentions to the public roads that formed the streets of the village, and although in its incipiency people did not realize the inconvenience of this absence of the power to regulate their own affairs as they must have done at a later period, it was, nevertheless, apparent that the growing importance of the place warranted such changes as would render it a separate and distinct political division. Accordingly, at the September term, 1817, a petition from a number of public-spirited citizens of the vicinity was presented to the court of quarter sessions, stating "that they reside on tile extremity of the townships of Buckingham, Warwick, New Britain, and Plumstead, and that it would be to the interest and advantage of the said petitioners to have a new township laid off from the said townships, making the court-house the center thereof or as nearly so as may be convenient." William Long, Samuel Abernathy, and John Ruckman, commissioners appointed to lay off the proposed territory, submitted their report December 3, 1817, and produced a draft of the township in question with boundaries nearly identical with those subsequently adopted, except that the Street road in Buckingham and Plumstead was made the eastern limit. This report was not confirmed, for the reason that the draft did not show the shape of the original townships as affected by the change suggested, nor were there any landmarks, natural or artificial, in explanation of the many different courses described. The matter was not allowed to lapse, however; anti at the August term, 1818, a new commission, consisting of Thomas G. Kennedy, Thomas Yardley, and Thomas Story, was appointed to consider the propriety of granting the petition first presented eleven months before. Their report was "confirmed nisi," November 30, 1818; and, after the usual delays for argument and appeal, "confirmed absolutely" March 4, 1819. Plumstead territory was entirely excluded, and the area otherwise reduced from that proposed in the first instance. Five thousand three hundred and fifty acres were taken from New Britain, one thousand one hundred and eighty-five from Buckingham, and three thousand five hundred and fifteen from Warwick. And thus, in the year 1819, after a persistent agitation of nearly two years on the part of those favorable to the project, the township of Doylestown was erected. The map of Bucks county has not been materially changed since that time. The formation of a new subdivision by uniting the contiguous portions of older organized territory was a procedure without precedent in the previous history of the county.
Township organization was beneficial in many ways, but the growth of the village was thought by public-spirited citizens to justify a further concentration of political powers. A second period of nineteen years from the beginning of the century elapsed before the agitation on this subject was brought to a favorable issue. Legislative action was secured in 1838, providing for the incorporation of Doylestown as a borough and its government as such, upon the acceptance of the provisions of the act by popular vote. Thursday, May 17, 1838, the election was held, and the charter was adopted by the practically unanimous vote of fifty-four to four; and on the following Monday, Nay 21, the first election for officers under the new régime was held at the public house of William Field. The results on this and subsequent occasions of a similar character appear at the close of this chapter. The chief executive officers are a chief burgess, assistant burgess, and high constable, all of whom are elected annually. The legislative powers are vested in a common council, the members of which, nine in number, were also elected every year until 1867, when the act of incorporation was so amended as to make the time of service three years.
Among the first official acts of the council was "an ordinance naming the streets," of which twelve were then recognized, viz., Main, Green, York, State, East, West, Court, Church, Broad, Pine, Mechanic, and Garden alley. Main and State streets were the oldest; Broad was opened in 1811; and Pine— from State to Main— prior to 1812; Broad was extended from Court to State in 1818. The last end of this street is worse than the first; after passing through surroundings indicative of a high order of development in education, finance, and jurisprudence, it descends to the valley below, where it is known by the less dignified name of "Dutch lane." In like manner Main street became "Germany." Of later streets, Clinton, Center, Franklin, Decatur, Union, and Pine, with Lacey, Linden, and Afton avenues, were recognized by council in 1870; Church, Pine, North, Stover, Cottage, and Cemetery avenues in 1871; Donaldson and Hamilton in 1872; Lafayette and Washington are beyond the borough limits, which have never been extended, but comprise the same area as in 1838 (about four hundred and fifty acres), and there is yet considerable territory not occupied by buildings. The increase in the population is shown from the following statistics: The number of inhabitants in 1840 was nine hundred and six; in 1850, one thousand and two; in 1860, one thousand four hundred and sixteen; in 1870, one thousand six hundred and one; in 1880, two thousand and seventy.
No public enterprise reflects greater credit upon the citizens of Doylestown than its system of waterworks, first projected about the year 1849. The property then owned by Sandham Stewart in its numerous springs and water-power presented advantages not to be found elsewhere in the vicinity. Lest the opportunity of securing it for the borough might be lost, Messrs. Samuel Hart, W.T. Rogers, Lewis Apple, Elijah Lewis, George Hart, and R. Thornton purchased the Stewart estate from his administrators on their own responsibility with the view of transferring it to the town. At their request, the burgesses called a public meeting to consider the matter, and on the evening of the last day of the year of 1850 a general town meeting was held at which Samuel Keichleine presided. The representative of the purchasers informed the meeting that the entire property had been secured for six thousand dollars; that that part of it which included the springs, mill-site, and valuable franchises would be disposed of for about half that sum, and that any other arrangement which might be suggested would be considered. The chairman appointed a committee of fifteen, viz: George Lear, H.J. Taylor, C.E. Wright, Joseph Harvey, C.E. DuBois, C.H. Mann, Samuel Green, W.L. Hendrie, J.C. Mangle, A.D. Bennett, James Gilkyson, S.J. Paxson, Edward Fox, Josiah hart, and William Carr, to collect information and formulate a plan for waterworks. January 15, 1851, they presented a report containing all the information necessary in forming an intelligent conclusion regarding the proposed new departure. The cost of the works was estimated at nine thousand five hundred dollars; and it was recommended that the borough purchase the property in question and undertake the work rather than an incorporated company. Messrs. W.T. Rogers, George Lear, Josiah Hart, James Gilkyson, H.J. Taylor, S.J. Paxson, and J.S. Brower were constituted a committee to make further inquiry into the ways and means of constructing the works, the expense likely to be incurred, and the comparative advantages to the citizens in placing the enterprise in the hands of a company or under the supervision of the borough. After some further discussion, the question was apparently settled at a special election on Friday, March 21, 1851, when, by a vote of one hundred and nine to fifty-seven, it was decided that the borough authorities should undertake the work. The purchase of the mill property was concluded June 17 following, the administrator of the Stewart estate also transferring to the borough certain rights and privileges in certain lands not included in the purchase. Arrangements were also made with the trustees of the cemetery for a lot of ground as a location for the reservoir, the construction of which was begun. At this point further operations were summarily suspended. A new council representing tile element of opposition was elected in 1852. Men learned in the law expressed grave doubts as to the right of the borough to acquire property, the right of the cemetery trustees to dispose of land, the right of any individual or corporation to take water from the creek to the disadvantage of riparian owners farther down its course; and whether right or wrong, the work was stopped and not resumed for nearly twenty years, during all of which time Doylestown enjoyed the distinction of being the only municipality in the world which owned and operated a grist-mill. Committees were regularly appointed to superintend its affairs; and in the almost utter absence of other subjects for local legislation, the seemingly ill-advised action in acquiring the property assumed a fruitful topic of discussion which sometimes attained the dignity of a local "campaign issue." Through all these years the unfinished reservoir on the cemetery hill was a continual reminder of what might have been; and, to the more sanguine, an earnest of what was yet to be. In March, 1867, an act was passed by the legislature conferring upon the borough the authority to construct and maintain water-works at the public expense, and to issue bonds as security to an amount not exceeding thirty-five thousand dollars. The question again became a matter of public interest, and those who favored the project, finding themselves a majority of the common council in 1869, began to consider measures for the completion of the work begun in 1851. May 6, 1869, a loan of twenty-five thousand dollars for ten years at six per cent. was authorized. William E. Morris, a civil engineer, was employed to prepare plans, estimates, and specifications. It had no sooner become apparent that the council was energetically prosecuting the enterprise than the reactionary elements of the community again manifested strong opposition. Several public meetings were held in the court-house, and the action of council was condemned in unmeasured terms. In an assembly of this character, June 16, 1869, the council attended in a body. W.W.H. Davis, J.L. DuBois, and William E. Morris spoke in explanation of the plans of the council. The details became better understood and the advantages more fully appreciated, and from this time hostility gradually subsided. There were still those who went so far as to question the constitutionality of the act of 1867, and others who feared that legal complications might result from the use of so much of the water from the creek as would result in damage to mills of riparian owners. The last-named objection was disposed of in a summary manner. Counsel for a mill-owner at "The Turk" having filed application for a temporary injunction restraining the borough authorities from further excavations, Honorable Henry Chapman, president judge, after giving the case an extended hearing, dismissed it with this significant expression, "De minimis lex non curat." The work was continued with such energy that September 21, 1869, it had so nearly reached completion as to permit a trial of the Worthington pumps for the first time. Not long afterward, water was introduced into private houses, John L. DuBois and W.W.H. Davis being the first to receive it. The mains have been extended at various times, and now reach every part of the town. A Holly automatic pump has been introduced, and greatly increases the efficiency of the system. The necessity of a fire department is effectually obviated; and although none is in existence, insurance underwriters have expressed the opinion that there is no town of equal size in the state so adequately protected. The enterprise has proven a financial success. Rates are much lower than in towns of the same population where valuable franchises have been placed under control of private corporations, and a sum of money is annually applied to liquidate the indebtedness incurred in the construction and equipment of the works.
<![if !vml]>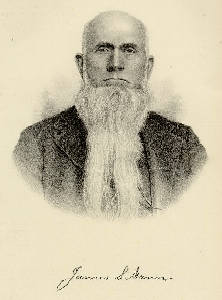 <![endif]>
Gas was introduced in 1858, and a movement to supersede it by electric light is now under consideration.
Travelling facilities have done much to advance the interests of Doylestown. On the 29th day of April, 1792, John Nicholaus established a stage line from Easton to Philadelphia by way of Doylestown, which, under successive proprietors, was continued until 1854, when the Belvidere railroad was opened. During this time there were a number of lines established from this place to the city. Staging finally ceased in 1856, when the North Pennsylvania railroad was opened, October 9th of that year. It is much to be regretted that the Doylestown branch was not extended to New Hope; but, considering things as they exist, no one would deny that the facilities for travel thus afforded have proven a decided advantage. Business and manufacturing interests have not been advanced to any extent, however. The railroad permits easy access to the great stores of Philadelphia, without any compensating advantages to local trade. The usual lines of business are well represented, Main street being the principal thoroughfare. Prominent among its attractions is the Lenape building, erected in 1874—75 by the Doylestown Improvement Company. It comprises on the first floor a market-house, the post-office, and a number of store-rooms; on the second are found the public library and club-rooms, besides a public hall, well equipped with stage fixtures and a seating capacity for six hundred persons; and on the third the three bodies of Odd Fellows here represented meet regularly in a commodious and well-furnished apartment. This building, in point of size, appointments, and appearance, is unequalled by any other of a similar character in the county. Of moneyed institutions, the Doylestown National Bank, the private bank of J. Hart & Co., and the Bucks County Trust Company render the county-seat a financial center of growing importance. Prior to the year 1832 there was neither bank nor banking-house in the town, the disadvantage of which was seriously felt by the business portion of the community. The initial effort in obviating this inconvenience was taken November 26th of that year, when a meeting of citizens favorable to the project was held at the public house of David Weirman. An organization was effected with a board of directors, consisting of Abraham Chapman, John Roberts, E.T. McDowell, Timothy Smith, Samuel Yardley, Christian Clemens, Samuel Kachline, Benjamin Hough, Elias Ely, William Stokes, John P. Neely, Mahlon K. Yardley, and John Blackfan. It was also decided that the capital stock should be sixty thousand dollars. The board organized with Abraham Chapman president, and at its second meeting, December 3, 1832, elected Daniel Byrnes cashier. The property of Mary Shaw on State street was rented for business purposes, and there the bank was opened. It enjoyed the confidence of the community from the beginning, and has been successful throughout its long career. In view of the large increase of business within the first few months, it was thought advisable to secure a more eligible building and location, and at a meeting of the board of directors, February 20, 1833, this matter was favorably considered. The purchase of the present site from Stephen Brock and the estate of Enoch Harvey was consummated March 6, 1833. May 22d following Samuel Kachline entered into a contract for the erection of a new banking-house. On the first day of January, 1834, the board of directors dined in the recently completed building. Its occupation for business purposes was deferred until February 22d, the one hundred and second anniversary of Washington's birth, possibly in deference to the patriotic feelings of those concerned. This structure was remodelled in 1870, and as thus enlarged has been called the best constructed building, architecturally, in the town. The management has experienced some changes, although comparatively few have marked its history for more than half a century. In November, 1847, after an incumbency of fifteen years, Abraham Chapman resigned his position as president, and Charles E. DuBois was elected his successor. Upon the death of the latter, Honorable George Lear was elected president, March 22, 1865, and continued in that office until his death, in May, 1884, when Henry Lear succeeded him. He is the present incumbent. Daniel Byrnes, the first cashier, resigned December 8, 1847. Josiah Hart was his immediate successor. John J. Brock, the present cashier, was elected November 10, 1857. The capital is one hundred and five thousand dollars; surplus, one hundred thousand dollars.
About the year 1855, Josiah Hart, George Hart, Richard Watson, William M. Large, and Jonas Fretz formed a co-partnership for the transaction of private banking business under the name and style of J. Hart & Co., by which the house is still known. Messrs. Watson, Large, and Fretz withdrew in 1862, and George Hart in 1875, when Josiah and John Hart succeeded to the business. The former died in 1885, and as at present constituted the members of the firm are John and Frank Hart.
The Bucks County Trust Company has existed as a corporation since February 23, 1886. Its original and present organization is constituted as follows:
president, Richard Watson; vice-president, John S. Williams; treasurer, T.O. Atkinson; directors, Richard Watson, J.K. Miller, Louis H. James, George Ross, J. Monroe Shellenberger, Hugh B. Eastburn, Robert M. Yardley, Samuel Steckel, James B. Doyle, Aaron Fretz, Joseph S. Atkinson, Philip H. Fretz, John S. Williams, B.F. Gilkeson, Joseph Thomas. The authorized capital is two hundred and fifty thousand dollars. This corporation insures persons interested in real estate from loss by reason of defective titles, and acts as agent in the purchase and transfer of property of all kinds, the settlement of estates, and the execution of trusts of every description. The advantages of thus transacting a business of this character are the complete security afforded by the capital stock, the permanency of the corporation, and its enlarged facilities. The operations of the company so far have been eminently satisfactory. Its business is transacted in a building owned by the company at the corner of Broad and Court streets. No precaution has been spared to render the vault absolutely impregnable. A solid granite wall, thirty inches thick, forms its exterior, while the vault proper consists of a heavy metal lining. The door is of massive proportions, and is secured by a system of locks, complex, ingenious, and intricate. The general aspect of the building and its appointments is such as to impress confidence in the methods of the corporation of which it is the visible exponent.
Manufactures have never developed beyond the limits of local consumption. Of those at present in operation the most extensive are the agricultural implement and repair shops of Daniel Hulshizer, established in 1848—49 by the present proprietor and Christopher F. Melic, who were then conducting a similar business at New Village, New Jersey, thirty miles distant. During the first year this was merely a branch office for the sale of their products. Mr. Hulshizer removed to Doylestown in 1849, and brought with him such machinery as was necessary to perform the finishing of woodwork, while iron castings and shafting for the implements they made were hauled by wagon from New Village. This arrangement continued for five years, when, having established a larger trade at Doylestown, Mr. Huishizer returned to New Village, leaving his interests here in the hands of Messrs. Martin & Wetherill. He returned in 1866, and in the following year built the large and commodious factory now occupied. The main building is eighty-three by thirty-six feet, three stories high. An addition was erected in 1882, thus enlarging the facilities fully one-half. Twenty-five men are employed. Different persons have been associated with Mr. Hulshizer at various times, but he is now sole proprietor. and has witnessed the growth of a prosperous industry from a comparatively small beginning.
The East Pennsylvania Spoke and Bending Works, Worstall & Carl proprietors, were established in 1858 by Samuel Green at their present location, Court and State streets, in a stone building erected in 1851 and used as a carriage-shop. The business was successively conducted by Coheen & Evans, Coheen & Jarrett, M.P. Jarrett, M.P. Jarrett & Co., and the present management, which assumed control in 1886. The product is used in the manufacture of carriages. The sash and planing mills of Louis J. Buckman & Co., Wallace Dungan's hide and tallow factory, with other establishments of lesser note, complete the industrial representation of the town. Considering the fact that Doylestown is but the terminal point of a branch railroad, the prospect of further growth in this respect is not promising. Until within recent years there does not appear to have been a disposition favorable to manufacturing enterprises. In January, 1887, the borough council passed a resolution exempting, under certain conditions, the plant of factories from taxation for a term of years. If other circumstances were equally favorable, there might be a change in the condition of affairs in this respect. This action of the council is the first encouragement capital has yet received, and indicates more than might be inferred from direct results.
A full complement of secret societies is represented. Doylestown Lodge, No. 245, F. & A. M., was constituted August 27, 1850. Original officers:
John W. Fry, W.M., Josiah Rich, S.W., Caleb E. Wright, J.W., Stephen Brock, T., William Carr, S., John S. Bryan, S.D., Jonas Ott, J.D., John McIntosh, Tyler. The hall owned by this body was purchased in 1857, and after undergoing extensive alterations, dedicated to masonry on Thursday, October 28, 1858.
Doylestown Lodge, No. 94, I.O.O.F., was granted a charter March 11, 1844 which became defaced to such an extent that it was surrendered, and in lieu of this the present charter was issued January 22, 1847, to David H. Goucher, N.G., R. Thornton, V.G., John G. Michener, S., William Limeburner, T. Present membership, about one hundred.
Doylestown Encampment, No. 35, I.O.O.F., was instituted June 22, 1846, with John G. Michener, C.P., C.E. Wright, H.P., R. Thornton, S.W., Hiram Lukens, J.W., Samuel Darragh, S., Joseph Young, T., E.K. Sherer, and John White, with others, petitioners.
Aquetong Lodge, No. 193, I.O.O.F., was instituted June 30, 1846, with George H. Michener, N.G., William Keichleine, V.G., Isaac Lippincott, S., John G. Michener, T. The three bodies last named meet in a commodious and well-furnished apartment in the Lenape building.
Doylestown Council, No. 166, O.U.A.M., was organized September 2, 1868, with the following members and officers: T.N. Myers, C., Joseph A. Martin, V.C., A.W. Heany, R.S., David Firman, A.S., James H. Clark, F. S., T.P. Harvey, Treas., Lewis Heller, H.S. Siegenfuss, William Fluck, E.R. J. Ughworth, William Lightcap, John P. Kinney, Wilson D. James, A.C. Large, D.S. Williams, A.B. Rickerd, O.H. Smith. Present membership, fifty-seven.
Excelsior Grand Lodge, No. 379, P.H., was organized November 10, 1874, with twenty-nine members, of whom Samuel S. Fries was secretary and James M. Cathers treasurer. Its charter was granted March 10, 1575. The present membership is eighteen.
General Robert L. Bodine Post, No. 306, G.A.R., organized January 23, 1883, with the following members: Charles A. Cuffel, Richard Watson, Thomas B. Miller, Jacob Clemens, F. Swartzlander, Samuel Silvey, Joseph S. Hawk, Mills Williams, John Townsend, John Hargrave, Isaiah I. Sellers, J.T. Atkinson, Robert Conrad, James Gilkyson, C.H. Magill, Andrew Conrad, D.W.C. Callender, C.K. Frankenfield, Evan Stower, James M. Fulton, James Garis, Lewis K. Bryan, Samuel L. Ely, William T. Radcliffe, John Flack, Patrick Harford, James Bissey, Rudolf Myers.
George T. Harvey Camp, No. 164, S. of V., was mustered December 13, 1886, with the following members: John Yardley, K. Ochersperger, Howard J. Fries, Frank Livezey, Kirk Atler, Nelson V. Naylor, Charles Mcintyre, Frank B. Atler, J. Harrison Wilson, C.H. Kolbe, Jr., George Watson, Charles M. Williams, William A. Patton.
Franklin Lodge, No. 44, O.S. of P., was instituted September 6, 1886, with twenty-three members, viz., J.M. Schellenberger, Henry S. Murfit, John R. Bigell, Edward Carl, Thaddeus Boeck, Evan J. Morris, Fred. Constantine, F.F. Bechlin, Lycurgus Bryan, Gilbert R. Fisher, Ernest Werner, George Schroth, Samuel Z. Freed, J.M, Meglathery, Lewis K. Bryan, E. Edwin Scheetz, John Yardley, Frank Livezey, M.B. Dill, George Peelser, William Sell, J. Evan Zorns, Warner Worstall. This was the first lodge of the order outside of Philadelphia.
Sciota Tribe, No. 214, Imp. O.R.M., organized December 10, 1886, with fifty-eight members, of whom the following were elected officers: Andrew F. Bertles. C.S.; Thomas H. Walton, P.; Joseph H. Wilson, S.S; Edwin Smith, J.S.; William Lightcap, K. of W.; George Skelton, C. of R. The present membership is seventy-three.
St. Tammany Castle, No. 173, K.G.E., was instituted April 25, 1887, with Frank Zorns, P.C. Irvin N. James, N.C.; Charles H. Heist, V.C.; J. Wilmot Harvey, H.P.; Harvey Scheetz, V.H.; M. of R., John D. James; C. of E., Frank Stover K. of E., William Schoner.
The German Aid Society of Doylestown was organized in June, 1866, with Fred. Constantine, president; George Kraft, vice-president; Dominic Bauman, secretary; John Bauer, treasurer: and three other members. This number increased to thirteen the second year, fifteen the third, and twenty-one the fourth. Its membership at present is sixty-five. The society was incorporated May 3, 1867. It is of a purely beneficial character.
The Doylestown Maennerchor was organized July 1, 1884. The officers at that time were Edward Carl, president; Augustus Zeigler, leader; George W. Schrooth, vice-president; F.F. Bechlin, secretary, and Charles L. Zeigler, treasurer. The membership of fourteen at that time has since increased to fifty-eight. The purpose in view at first was solely social and musical culture. A beneficial feature was added November 1, 1885. The society was incorporated March 14, 1887.
The Doylestown Library Company was incorporated March 31, 1856, upon petition of the following persons: S.M. Andrews, George Hart, W.W. Grier, Henry T. Darlington, Enos Prizer, Richard Watson, M. Yardley, C.E. DuBois, George Lear, Edwin Fretz, John S. Brown, James Gilkyson, Henry Chapman. John S. Brown, the editor of the "Intelligencer" at that time, was first treasurer. John B. Pugh succeeded him in 1864, and Elias Carver in the next year. The affairs of the company are managed by a board of directors, three in number: Henry Lear, Alfred Paschall, and Thomas W. Goucher constitute the present board (1886). The library was opened in an apartment in the old court-house in 1856. It was then removed to a room in Honorable Richard Watson's residence, and, since 1875, has occupied a room in the Lenape building. The number of volumes is about three thousand.
The educational interests of the borough are well sustained. Four distinct efforts have been made to establish schools of advanced standing, the earliest of which resulted in the Doylestown academy, the building for which was erected in 1804, and is still standing at the corner of Broad and Court streets. The necessary funds were provided principally by subscriptions, although a lottery scheme was projected, and sanctioned by the legislature in 1805, for the purpose of realizing three thousand dollars. Sixteen thousand tickets were to be sold, of which four thousand six hundred and thirty-five were to draw prizes. The lottery was conducted by seven commissioners, Andrew Dunlap, Christian Clemens, John Hough, Thomas Stewart, Hugh Meredith, Nathaniel Shewell, and Josiah Y. Shaw, with Shaw and Asher Miner agents. The income from this source was still insufficient, and for several years an annual appropriation was received from the state. The first principal was the Reverend Uriah DuBois, who was also pastor of the Presbyterian congregation at Deep Run. After his death, in 1821, there was not a regular succession of teachers. Ebenezer Smith had charge of the classical department from 1821 to 1828. Reverend Samuel Aaron, one of the most eloquent public speakers in the state, and Silas M. Andrews, D.D., subsequently conducted the school. The building is now used for public school purposes. The second educational enterprise was Ingham Female Seminary, incorporated by the legislature in 1838, and sustained for several years by state appropriations. C. Soule Carter was principal, but after his departure the institution collapsed. This occurred in 1843. Eventually, the building and grounds, at the corner of Broad and Mechanic streets, became the site of Linden Female seminary, founded under a charter from the county court in 1872. It grew out of a school for girls opened by Reverend L.C. Sheip in the spring of 1870, in Masonic Hall. The principals were Henry A. Hough and Rev. L.C. Sheip. The school attained an enviable reputation in this and adjoining states, and promised a career of great usefulness. But two similar enterprises had failed under more favorable conditions, and the third seemed irresistibly drawn toward the same conclusion. Mr. Sheip was well calculated to make the school a success, and it is to be regretted that adverse circumstances deprived the town of the advantages which must have inured from its continuance.
The Doylestown seminary of the present was incorporated May 29, 1877, but had been in operation fully ten years prior to that time, it was established in 1867 by Benjamin Smith. The main building was erected in 1869—70, and when the school opened the following term one hundred and seventy-nine pupils were in attendance, a larger number than has since been enrolled. In 1876 the property came into possession of a board of trustees in lieu of the obligations of the former proprietor, and Reverend ---- Hafford was placed in charge as principal. M.E. Scheibner succeeded him in 1877. The property once more came into possession of an individual owner in 1880, when Augustus C. Winters purchased it. It has been continued as a proprietary school, and is now owned and conducted by John Gosman, Ph.D., who assumed the management in 1882. For the first time in its checkered career the school is prosperous financially. More than one hundred pupils are in attendance, many of whom reside at a distance from the town. The school enjoys in a marked degree the confidence of the immediate community, and it is to be hoped that it will experience a future as successful as its past has been unfortunate.
Since the reduction in size of New Britain in 1819 there is no more forcible reminder of its former extension southeast than the New Britain Baptist Church, the extension of which under its present name beyond the limits of that township is the only circumstance apparent to the casual observer to indicate that the latter division once embraced part of Doylestown. The burial ground and church edifices are located in the extreme western portion of Doylestown township, about four miles west of the county-seat and thirty from Philadelphia, on an elevation between two branches of the Neshaminy. The cemetery comprises two acres, and its tenants number several thousand, the oldest inscription being that of John Riale, under date of August 14, 1748. The burial-ground is intersected by a public road. It was enlarged in 1843, and is inclosed by a stone wall of venerable appearance. An additional acre comprises the site of the church edifice and chapel, and in one corner there is a never failing spring of water over which the baptistry is built. The present church edifice, built in 1815, is sixty-five feet long, forty-six feet wide, and twenty-three feet high, with seating capacity of six hundred. It is a stone building. The interior has been much improved in appearance in recent years, and combines the ideas of threescore years ago with those of the present. There are galleries around three sides and two rows of windows, rather small in proportion to the dimensions of the exterior wall. The first meeting-house was built in 1744, and was known for many years as the "Society meeting house," from its location about the center of the lands owned by the "Penn Society of Traders." The site was donated by Joseph Growden. It is thus described in 1770: "The house is of stone, forty feet by thirty, erected in 1744 on a lot of two acres, partly the gift of Judge Growden and partly the gift of the congregation, whereon are stables, a school-house, and a fine grove. It is a rising ground formed into an angle by the crossing of two highroads. The house is accommodated with seats, galleries, and a stove." The chapel, built in 1885, is a substantial structure fifty-six feet long and thirty-three feet wide. It is arranged for the various purposes of Sunday-school room, sociables and church receptions, etc. Beside these buildings there are a number of sheds on the premises for horses and carriages. The general aspect of the buildings and grounds is such as to convey an idea of strength, liberality, and pro. gressiveness on the part of the congregation.
<![if !vml]>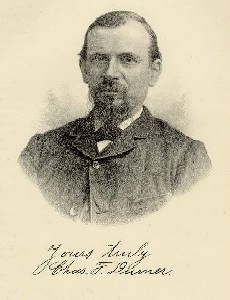 <![endif]>
The organization of the New Britain church was effected under difficulties. The emigration of Welsh Baptists to Pennsylvania began in 1683, and in 1719 they had become sufficiently numerous in Montgomery to organize at that place one of the first churches of this denomination in the province. It subsequently included among its membership much of the Welsh element in New Britain. A dissension arose about the year 1735 regarding certain doctrinal points, Simon Butler, of New Britain, being one of the chief disputants; his neighbors adhered generally to his views, which were not acceptable to the Montgomery people. The matter was taken before the association and an amicable settlement attempted, but without success. The New Britain people were desirous of becoming a separate church, and improved this opportunity for action in that direction. Twenty-two of their number— Isaac Evans, David Stephens, Evan Stephens, John Williams, Walter Shewell, Joshua Jones, William George, Clement Doyle, William Dungan, John James, David Morgan, Thomas James, David Stephens, Jr., Thomas Humphreys, Mary James, Mary Shewell, Margaret Phillips, Elizabeth Stephens, Jane James, Catharine Evans, Margaret Doyle— associated themselves together November 28, 1754, and became the original constituent members of the New Britain Baptist church by attaching their signatures to a written instrument setting forth their belief and the objects of thus organizing. The leaders in this movement were Benjamin Griffith, William Davis, Isaac Eaton, and John Thomas. An arrangement was made by which the Montgomery church dismissed the new organization, and in 1755 the latter was received into the Philadelphia association. And thus the ninth Baptist church in the state, with respect to seniority, came into existence.
Frequent pastoral changes have marked the course of its history. Reverend Joseph Eaton, the first pastor, preached in the old meeting-house before the organization of the church. He was born in Wales August 25, 1679, immigrated to America in 1686, was called to the ministry in 1722, ordained October 24, 1727, and died April 1, 1749. He is mentioned by his contemporaries with uniform respect and regard. His colleague during the latter years of his life was Reverend William Davis, also a native Welshman, who succeeded to the pastorate in 1749. His death occurred October 3, 1768. Reverend Joshua Jones became his assistant in 1761, and assumed pastoral charge in 1768, continuing in that capacity until 1793, a period of twenty-five years, including the revolutionary interval and a remarkable schism in the church caused by David Evans, a man of vigorous mind and fair education, who became a Universalist, and constrained many of the membership to adopt his views. He built a small house for worship in 1801, and there expounded his doctrines to such as cared to hear them; but the congregation did not survive the death of its founder, which occurred in 1824. Reverend William White was pastor from 1795 to 1804, and Silas Hough, M.D., from the latter year to 1818. The incumbency of the former was remarkable for the number of accessions, as was also that of Reverend John C. Murphy, who succeeded Hough in 1819, and closed a five years' pastorate April 18, 1824. The next in order was Reverend James McLaughlin, who was elected October 20, 1825. The next was Reverend Samuel Aaron, the most talented and brilliant man who ever occupied the pulpit at New Britain, noted for his invectives against intemperance and slavery. During the administration of his immediate successors, Reverends T.T. Cutcheon and Samuel Nightingale, the condition of the church was far from prosperous. It received an upward tendency from the next incumbent, Heman Lincoln, D.D., under whom the membership was largely increased and the general interests of the church advanced. Reverend William Wilder, Levi G. Beck, A.C. Wheat, William Whitehead, Lewis Munger, and N.C. Fetter complete the pastoral record. The charges above noted may be thus summarized: Joseph Eaton, 1743—49; William Davis, 1749—68; Joshua Jones, 1768—93; William White, 1795—1804; Silas Hough, 1804—1818; John C. Murphy, 1819—24; James McLaughlin, 1825—27; Samuel Aaron, 1830—31; T.T. Cutcheon, 1836—88; Samuel Nightingale, 1838—45; Heman Lincoln, 1845—50; William Wilder, 1851—54; Levi G. Beck, 1855—59; A.C. Wheat, 1860—65; William Whitehead, 1867—71; Lewis Munger, 1872—79; N.C. Fetter, 1880----.
In Doylestown township, a mile from the borough, stands a Mennonite meeting-house, said to be the oldest church edifice in middle Bucks county. It is known to have been built prior to 1810. In the burial-ground adjoining many of the old German families of the vicinity are represented in several generations.
The Doylestown Presbyterian church is the oldest denominational organization in that borough. It originated in the labors of Reverend Uriah Du Bois, during his residence at Doylestown as principal of the academy in the beginning of this century. He was ordained and installed at Deep Run in 1798, and, after the completion of the academy building (1804), began to preach occasionally in an apartment therein which the trustees placed at the disposal of all Christian denominations. He preached also at Tinicum until 1808; and when that appointment was relinquished, regular services were conducted at Doylestown alternately with Deep Run. The removal of the county-seat in 1812, and the fact that there was then no church building in the town, rendered it necessary that adequate accommodations for worship should be provided. The Presbyterian congregation undertook this work, and in 1813 building operations were begun. August 14, 1815, it had so far approached completion as to be dedicated, Reverends Jacob J. Janeway, Robert B. Belville, and U. DuBois performing that ceremony. This structure was fifty-five feet long by forty-five in width, with four ranges of pews and side galleries. It was enlarged and remodelled in 1850. On the last Sunday in May, 1871, the congregation assembled here for a final service, and within a few weeks the building was demolished. On the 16th day of the same month in the following year the present church edifice was occupied for the first time. It is a stone building, sixty feet wide by ninety feet long, with tower one hundred and forty-six feet surmounted with a belfry; chapel, Sunday-school rooms, and audience-room with a seating capacity of one thousand persons. The aggregate cost was fully thirty thousand dollars. A memorial tablet in the chancel is inscribed to the memory of Reverend Silas M. Andrews, D.D., who was pastor from November 16, 1831, until his death, March 7, 1881— a few months less than fifty years. In the interval of ten years between the death of Mr. DuBois (September 10, 1821) and his installation (November 16, 1831) there were a number of supplies, among others, Messrs. Tustin, Beatty, and Charles Hyde. The latter was ordained and installed as pastor November 18, 1823, and resigned May 11, 1829. Reverend Henry Hotchkiss became stated supply in 1830. He was the immediate predecessor of Dr. Andrews; and Reverend W.A. Patton, the present pastor, who was installed May 3, 1881, succeeded upon the death of the latter. The congregation numbers about six hundred. Seven Sunday-schools are connected with the church, numbering nearly a thousand scholars. The following persons were ruling elders from 1796 to 1876: Thomas Stewart, James Ferguson, Andrew Dunlap, John Mann, John C. Ernst, Jonas Newton, John Beatty, W.S. Hendric, James McNeely, Samuel Godshalk, Nathan Lewis, John Widdifield, John H. Anderson, Samuel Hall, John Greer, Silas H. Thompson, John G. Mann, Benjamin S. Rich, and John G. Harris.
In the year 1834 several Friends residing in and near the village of Doylestown made application to Buckingham monthly meeting for permission to hold an indulged meeting on first days. The meeting appointed a committee to inquire into the matter, and when the request had been favorably reported, the proposed meeting was authorized, It was held for a time in a room rented for the purpose, until, in the following year, a meeting-house was erected, which cost, with improvements, one thousand six hundred and fifty-four dollars and fifty cents.
Methodism was introduced into Doylestown in 1837. The first sermon was preached in the Presbyterian church by Reverend James Hand, who was then in charge of Attleborough circuit. His predecessors had previously preached occasionally in the vicinity, but it is not known that regular services were ever held in the town. Mr. Hand's text was "Fear not, little flock," etc. He was a good mechanic as well as preacher, and personally engaged in the work of building a church. This efforts were ably seconded by the liberal men of the town. A neat and commodious stone church edifice was completed in 1838. It is sixty feet long and forty feet wide, with a seating capacity of four hundred and fifty. The present membership is one hundred and three. Reverend H.R. Robinson has been pastor two years past. This pulpit has been occupied by some of the brightest intellects of the Philadelphia conference.
The parish of St, Paul's Protestant Episcopal church, Doylestown, was organized April 26, 1846, at the residence of Andrew Donaldson on State street. The vestry, as then constituted, consisted of Andrew Donaldson, Henry J.C. Taylor, William Limeburner, Richard M. Donaldson, James Kempton, Benjamin Jackson, and Charles H. Mann. William Limeburner and Charles H. Mann were elected wardens. At a subsequent meeting of the vestry, May 15, Bishop Potter presiding, George Blight and Dr. Charles Treichel, of Germantown, were elected additional members; the latter, instead of Benjamin Jackson, resigned. The parish was admitted into union with the diocese in 1848, and a charter of incorporation granted by the civil court February 8, 1848. The moving spirit of these developments was Reverend George P. Hopkins, then a resident of Germantown. He held his first service at Masonic hall, Doylestown, on Sunday morning, May 18, 1845. At this time there was only one member of the Episcopal church in the place— Mrs. Thomas Ross. Mr. Hopkins was elected rector at the first meeting of the vestry, and continued in that capacity until his resignation, March 19, 1853, deriving his support mainly from the "Society of the Protestant Episcopal church for the advancement of Christianity in Pennsylvania." The building of a church edifice was the principal event of his administration. Formal action was taken by the vestry May 15, 1846, in the appointment of Henry J.C. Taylor, William Limeburner, and Andrew Donaldson as a building committee, with Hon. Thomas Ross as treasurer of the building fund. Ground was broken for the proposed building, July 20, 1846; the corner-stone was laid by Bishop Potter September 16 of the same year, and the first service in the new building was held April 23, 1848. It was consecrated by Bishop Potter, May 30, 1850. At that time the building consisted merely of the nave; the new chancel and bell-gable were added in 1870, and the Sunday-school and lecture-room furnished in 1854. Reverend Rees C. Evans was pastor from March 11, 1854, to July 7, 1855; William R. Gries, from November 12, 1855, to October 15, 1861, when he resigned to accept the chaplainship of the one hundred and fourth regiment of Pennsylvania Volunteers; John Tetlow from October 1, 1862, to March 31, 1864; Byron McGann from August 1, 1864, to August 18, 1868; Hurley Baldy from October 1, 1868, to November 1, 1873; Thomas R. Coleman, from April 26, 1874, to January 15, 1875; V. Hummel Berghaus, P.A. Widdemeyer, J.F. Taunt, and George N. Eastman from 1875 to the present.
The church of Our Lady of Mount Carmel, built in 1856, and dedicated November 23 of that year by Bishop Neumann, is third among the places of worship of this denomination (Roman Catholic) established in this county. Father George, its founder, was pastor at the time at Haycock, and upon the completion of the church edifice was placed in charge of the parish thus formed, which position he occupied nearly a score of years. He was stationed elsewhere by the archbishop in 1875, when Reverend James I. McDermott was appointed his successor. He remained but four months. December 1, 1875, the present pastor, Reverend Henry Stommel, assumed charge; he, like Father George, was the rector of Haycock immediately previous to his removal here. Under his administration a number of neighboring parishes have been formed, and the numerical strength of this one at Doylestown increased to about six hundred souls. The church edifice is a solid stone structure, one hundred feet long by forty wide, with tower one hundred and thirty-five feet high, a peal of bells, and pipe-organ. The pastoral residence attached is thirty-one by forty-six feet in dimensions, and three stories high, and a corresponding wing to the north of the main building is occupied by the sisters who conduct the parish school. In the rear of the church there is a beautiful cemetery, comprising several acres.
In 1860 Reverend W.R. Yearick was commissioned by the Board of Domestic Missions of the Synod of the Reformed church in the United States to labor among the scattered members of the denomination in and around Doylestown. A congregation of twenty members was organized March 17, 1861, with William Ruth and David Fleck, elders; L.S. Gearhart, Israel Frantz, and John Davis, deacons. It was incorporated as "Salem Reformed Church of Doylestown, Pa.," at the September court, 1864. October 16 of that year the corner-stone of the present church edifice was laid, and in due course of time it was completed. After serving this congregation in connection with the Hilltown church eight years, Mr. Yearick resigned, whereupon Reverend W.H. Heilman was appointed to succeed him. At the end of eight months a vacancy again existed, upon which Reverend L.C. Sheip was appointed, and entered upon his duties December, 1868. He is the present (1887) pastor. The church was repaired, reseated, and otherwise improved in 1877. Owing to a lack of material, the membership has not increased rapidly.
St. Paul's Evangelical Lutheran church was incorporated May 17, 1870, with Reverend A.T. Geisenhainer, pastor; Jacob Schaeffer, Frederick Constantine, and Adam Daubert, elders; John Keller, Levi Nace, and Ludwig Ebert, deacons. Its membership was originally connected with the Hilltown church, and was first ministered unto by Reverend G. Heilig in 1862. He preached in the Reformed church, and resigned in 1865. Reverend W.R. Buehler was pastor from 1870 to 1871, R.S. Wagner from 1872 to 1874, J.H. Fritz from 1874 to 1879, A.R. Horne (regular supply) from 1879 to 1885, and E.L. Miller since his installation, July 19, 1885. The church edifice was dedicated in 1868, and re-dedicated on Ascension Day, May 13, 1875.
The First Baptist church of Doylestown was organized on the evening of Thursday, December 3, 1867, with the election of Reverend W.S. Wood as pastor, and two deacons— Robert Johnson and James D. Scott. There were more than fifty constituent members, a majority of whom had formerly been connected with the New Britain church. It was recognized as a regularly constituted organization January 16, 1868, by a council composed of representatives of seven different Baptist churches, Dr. George Dana Boardman delivering the sermon on the occasion; and at the next meeting of the North Philadelphia Association this church was formally admitted into the body. The initial step in building a church was taken January 12, 1867, when a committee was appointed to purchase a suitable site. Within two years from that date the proposed building was under roof; but owing to financial stringency it was not dedicated until January, 1877. It is a substantial structure, eligibly located, commodious, well furnished, and involved an aggregate expenditure of twenty-three thousand dollars. The successors of Mr. Wood as pastor were: Reverend H.A. Hastings, John Miller, and T.R. Howlett. The membership numbers one hundred and seventy-five at present.
Buckingham Valley Baptist church, at Bushington, was organized in August, 1880, by Reverend George A. Larrison, M.D., then pastor of Solebury Baptist church. The first services were held during the months of February and March of that year in private houses and at the school-house in Bushington, when thirty-six persons were converted. Reverends Larrison, Frame, Harte, and Huffnagle have been pastors, but Mr. Larrison was most active, and to his efforts the church owes its existence. The church edifice, a substantial frame structure, was built in 1886. This church is connected with the Reading Baptist Association.
A list of the principal officers of Doylestown borough since its incorporation is herewith submitted:-
Burgesses: 1838—1848, Abraham Chapman; 1849—52, Samuel Keichleine; 1853—54, Charles E. DuBois; 1855—56, James Gilkyson; 1857, John B. Pugh; 1858, Samuel P. Hamilton; 1859, John Fretz; 1860—62, Charles E. DuBois; 1863, James Gilkyson; 1864, N.C. James; 1865, John Fretz; 1866, John L. DuBois; 1867—68, Joshua Beans; 1869—70, Harman Yerkes; 1871, Joshua Beans; 1872—73, Samuel Cuthbert; 1874, James M. Wilkinson; 1875, A.J. Lame; 1876, Henry C. Michener; 1877, John M. Purdy; 1878, Josiah Frantz; 1879, Barney McGinty; 1880, A.H. Heist; 1881—82, John Donnelly; 1883, William Hargrave; 1884, James M. Wilkinson; 1885, George T. Harvey; 1886—87, John R. Bitting.
High Constables: 1838, Thomas Dungan; 1839, Asher Cox; 1840, Smith Price; 1841—43, Nathaniel Hubbard; 1844, Aaron Fell; 1845—47, Preston Price; 1848—52, Nathaniel Hubbard; 1853—56, James McCoy; 1857—84, John K. Tomlinson; 1885—86, Andrew Conrad; 1887, Joshua Tomlinson.
Councilmen: 1838. Samuel A. Smith, Nathaniel Hubbard, John B. Pugh, A.D. Bennett, Nathan Cornell, B. Vanluvanee, William Stokes, Moses Armstrong, Caleb E. Wright.
1839. Caleb E. Wright, John Seitzinger, John Potts, Thomas Wambold, William Maxwell, John B. Pugh, Samuel A. Smith, A.D. Bennett, Moses Armstrong.
1840. Josiah V. Shaw, Robert Armstrong, C.F. Yardley, William Maxwell, W. Limeburner, Stephen Brock, William Stokes, Thomas Wambold, John Seitzinger.
1841. Robert Armstrong, John Lenzler, W. Limeburner, Samuel Solliday, Charles Wigton, Thomas Hays, Samuel Yardley, William Stokes, Lester Rich.
1842. F.T. McDonald, Moses Armstrong, Abel M. Griffith, Charles E. DuBois, John B. Pugh, E.H. Sherer, C.H. Mathews, J. McIntosh, Charles Wigton.
1843. C.H. Mathews, John B. Pugh, Benjamin Morris, E.T. McDonald, Charles Wigton, Charles E. DuBois, J. McIntosh, A.M. Griffith, Alfred Magill.
1844. C.H. Mathews, J. McIntosh, E.T. McDonald, John B. Pugh, Charles E. Du Bois, A.M. Magill, Benjamin Morris, Joseph Harvey, D.H. Goucher.
1845. C.H. Mathews, J. McIntosh, A.M. Magill, John B. Pugh, Samuel Yardley, Standham Stewart, W. Limeburner, E. Lewis, Robert Armstrong.
1846. W.J. Hendric, J. McIntosh, George Lear, Levi Johnson, T.T. Kinsey, James Bleiler, John Clemens, E. Lewis, Alfred Magill.
1847. W.J. Hendric, L.L. Roberts, John Cox, Joel Vasey, Samuel Darrah, E. Lewis, John Clemens, William Addis, T.T. Kinsey.
1848. A.D. Bennett, J.S. Brown, Joseph Harvey, Preston Jones, George Lear, A.M. Magill, Thomas Scotland, J.B. Smith, Samuel Solliday.
1849. A.D. Bennett, George Kick, Charles Rotzell, Samuel Solliday, John Weikel, William Carr, Enos Kulp, Thomas Scotland, S.H. Thompson.
1850. (No return of the result of this year's election appears upon the records of the council or the court of quarter sessions.)
1851. Levi Johnson, Enos Kulp, George T. Harvey, John T. Brooks, George Hart, George McIntosh, James Gilkyson, I.W. Cornell, T.L. Cressman.
1852. J.L. Bean, Thomas Doyle, Isaac Riale, Samuel Hall, G.H. Michener, A.M. Magill, C. Sherer, A. Howe, B. Vanluvanee.
1853. Joseph Harvey, George H. Michener, Isaac Riale, Amos Stone, Thomas Hays, R.F. Scheetz, Samuel Hall, Thomas Dyer, A.M. Magill.
1854. Jesse Armstrong, R.F. Scheetz, S.T. Roberts, J.S. Bryan, Thomas Dyer, A.M. Magill, James Bleiler, Geoge Michener, Thomas Goucher.
1855. William Beck, John Clemens, A.C. Vanluvanee, George McIntosh, William T. Eisenhart, M. Yardley, S.H. Thompson, T.W. Goucher, George Lear.
1856. John Clemens, Thomas Goucher, C. Vanluvanee, G. McCoy, M. Yardley, Charles Wigton, John Brooks, George McIntosh, H.S. Fisher.
1857. G.R. McCoy, R. Thornton, John J. Brock, Richard Watson, B. Vanluvanee, S.P. Hamilton, Enos Kulp, James Gilkyson, Charles Solliday.
1859. John Beatty, F. Constantine, A.D. Hartzell, W.E. Warford, N.P. Brown, John Hargrave, C.J. Shade, H.F. Druckenmiller, John J. Brock.
1860. John J. Brock, A.H. Barber, Francis Adelman, J.L. Ely, R. Thornton, Robert Thompson, H.F. Druckenmiller, Samuel Hall, W.C. Warford.
1861. Jesse Armstrong, Joseph Harvey, N.C. James, Thomas Adelman, Enos Kulp, W.T. Rogers, Samuel Hall, Robert Lewis, R.F. Sheetz.
1862. Jesse Armstrong, John J. Brock, William I. Rogers, Joseph Harvey, James Gilkyson, N.C. James, Robert Lewis, T.N. Goucher, W. Constantine.
1863. Jesse Armstrong, John J. Brock, John S. Brown, W. Constantine, P.W. Goucher, Joseph Harvey, Robert Lewis, William T. Rogers, S.H. Smith.
1864. Jesse Armstrong, John J. Brock, Joseph Harvey, T.W. Goucher, S.M. Andrews, James Gilkyson, N.P. Brower, A.J. Riale, L.A. Smith.
1865. A.J. Riale, John J. Brock, James Gilkyson, Henry Livezey, S.H. Aaron, Enos Kulp, Francis Adelman, Joseph Harvey, Jesse Armstrong.
1866. John J. Brock, A.H. Barber, M.O. Kulp, N.P. Brower, W.S. Brunner, H.T. Darlington, Joseph J. Greer, G.E. Donaldson, S.P. Hamilton.
1867. For one year: John L. DuBois, Charles Wigton, Morgan Rufe; for two years: Joseph J. Greer, L.B. Thompson, A.H. Barber; for three years: Charles Rotzel, Samuel Hall, H.S. Fisher.
1868. John L. DuBois, Eugene James, Henry T. Darlington, W.W.H. Davis.
1869. N.P. Brower, A.J. Carrel, George Deemer.
1870. James Biglan, George Lear, G.R. McCoy.
1871. William Thompson, L.P. Worthington, James Rickert.
1872. W.W.H. Davis, J. La Rue, Thomas Hays.
1873. Charles Hamilton, Samuel Trumbower, Jonas Knight.
1874. John G. Randall, Isaiah Frantz, H.D. Livezey.
1875. Evan J. Morris, D.E. Brower, T.P. Harvey.
1876. H.H. Hough, Charles Hamilton, Levi Fluck.
1877. O.P. James, M.D., Augustus Zeigler, M. Dungan.
1878. T.P. Harvey, John L. Kramer, Edward McIntosh.
1879. John J. Brock, I.W. Closson, William Lightcap.
1880. O.P. James, M.D., Augustus Zeigler, Charles Hamilton, Henry Hough.
1881. Samuel Steckel, James Barrett, John L. Kramer, Charles Hamilton.
1882. John J. Brock, I.W. Closson, Thomas W. Henry.
1883. O.P. James, M.D., Samuel Steckel, Dr. R.B. Knight.
1884. James Barrett, Martin Evans, Henry Long.
1885. John L. Kramer, Andrew P. Rickert, Levi Huck.
1886. O.P. James, M.D., Thomas Biglan, William H. Robbins.
1887. John Yardley, James W. Bartlett, Martin Evans.
<![if !vml]>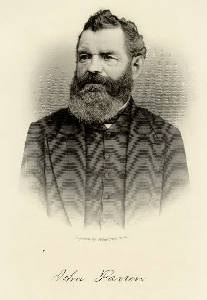 <![endif]>
* March 1, 1778, General John Lacey, in directing the movements of his brigade, mentions "Doylestown" as the destination of our detachment. In other instances he spelled the name Doyle Town," and the original orthography of the family name was Doyl. On a map of Philadelphia and its vicinity, prepared by British engineers in 1777—78, the town is first located topographically, and thus, in the trouble and turmoil of sanguinary conflict, the cross-roads hamlet first received its name.
The following, with regard to an encampment subsequent to General Lacey's, appeared in the Intelliqencer in 1833: "The most particular event winch signalized the history of Doylestown at that period was the encampment of the American army a few nights previous to the memorable battle of Monmouth, which took place on the 28th of June, 1778. The army was divided into three encampments: the first of which was stationed in the rear of a row of cherry trees that extended westward from the last-named building (a low, log structure, the predecessor of Mrs. Magill's mansion house), which was occupied during the night as headquarters, and which bore the imposing insignia, 'Cakes and Beer;' the second was placed near where the Presbyterian church stands; and the third on the farm of Mr. Callendar about a half a mile from the village on the New Hope road. The next morning was occupied until near noon before the army and baggage, wagons were completely under way." It may be stated in this connection that the most recent visit of a military body occurred May 28—30, 1887, when a detachment of artillery, en route from New York to Wilmington, Delaware, encamped in a vacant lot on Maple avenue.
** The most formidable competitor for metropolitan honors at that time was Houqhville, otherwise known as "The Turk," the geographical center of the county. In 1808, "The Sign of the Grand Turk" was occupied by Septimus Hough, who laid off a town and offered a lot of ground for the court-house, but without avail. At this time a grist- and oil-mill were situated here. Bridge Point and Bushington, known as post-offices under the respective names of Edison and Furlong, have existed quite as long as "The Turk" without manifesting any symptoms of remarkable growth. Furlong's early name was "The Green Tree," afterward "The Bush," from which Bushington was derived. A Baptist church is located here, and a Presbyterian chapel at Bridge Point.