XVI.
BUCKINGHAM — SOLEBURY.
ONLY a few years elapsed from the time that John Chapman became the farthest settler north until his claims upon that distinction were successfully disputed by the pioneers of Buckingham. The southern parts of the county were not so thickly populated as to necessitate the privations which this distance implied. Its northern border as far north as Warrington and Warwick gave few indications of the labor of the colonists; but the "vale of Lahaska" was beautiful, fertile, and attractive then as now, to such an extent as to warrant the adventurous and enterprising in placing a wide stretch of uncultivated country between themselves and civilization. Buckingham mountain and Bowman's hill are the most striking topographical features of central Bucks county; to the north are Lahaska creek, the historic Cuttelossa, Pannacussing, and numerous smaller streams to which no local name attaches; to the south are Pidcock's creek and at the western end of the valley the broad Neshaminy; each possesses a distinct individuality, but all harmoniously blended, forming a landscape that rivals in pastoral beauty the most famous in the state. It is not surprising that the Indians lingered here years after they had left other localities; for at the Aquetong spring is the reputed birthplace of the renowned Teedyuscung, and here among the braves of his tribes he passed the early years of his life, and, if early chroniclers may be credited, a rare degree of mutual kindness and good feeling existed between the untutored savage and his civilized neighbors. "In 1690," says John Watson, "there were many settlements of Indians, one on the low land near the river on George Pownall's tract, which remained for some time after he settled there; one on James Streipur's tract, near Conkey's hole; one on land since Samuel Harrold's; one on Joseph Fell's tract; and one at the Great Spring, etc. Tradition reports that they were kind neighbors, supplying the white people with meal, and sometimes with beans and other vegetables, which they did in perfect charity, bringing presents to their houses and refusing pay. Their children were sociable and fond of play. A harmony arose out of their mutual dependence. Native simplicity reigned in its greatest extent. The difference between the families of the white man and the Indian in many respects was not great— when to live was the utmost hope, and to enjoy a bare sufficiency the greatest luxury. A band of the Lenni Lenape, probably the last in this county, removed from their wigwam on Buckingham mountain in 1775. Their destination was the Wabash river, where a portion of their tribe had previously become residents."
A remarkable instance of Indian friendliness occurred in the experience of the first settler of Buckingham, Amor Preston. Samuel Preston thus gives the tradition of his family regarding this: Amor Preston, his grandfather, was "a tailor by trade, and made frocks, trousers, and moccasins out of deer skins, the clothing then most generally in use. . . . They went to Wicacoe, below Philadelphia, where, in a dry, windy time, their little establishment was surrounded by fire in the woods, and they with difficulty escaped with their lives— all their little property being consumed. Some of their former Indian acquaintances invited them to go over Laskeek (Buckingham mountain) to their village, called Hollekonk. I know it well: it is a limestone sink-hole that used to contain good water. here they were well treated by the hospitable Indians, and here my uncle, Nathan Preston, was born: the first white child in the bounds of Buckingham township. The mother and infant were kindly nursed by a young Indian woman named Sarah. Amongst the young Indians Nathan learned to speak their language before he did English, and she was fearful that her children, like herself, would not obtain any learning; but the event proved otherwise." The names of Paxson, Fell, Watson, Carver, Smith, Hughes, Ely, Bye, Kirk, and others were well known among the early settlers, and are equally familiar at the present day. In 1699 Thomas Bye purchased from Edward Crews, Nathaniel Park, and others an extensive tract secured by them in 1681. This was probably one of the earliest surveys. Bye removed to his land in the year of its purchase. About the same time William Cooper bought five hundred acres of Christopher Atkinson, upon which he settled at once (1699). Robert Smith, who arrived at Philadelphia an orphan, his father having died on the voyage out, became the owner of five hundred acres in Buckingham. Thomas Canby, a native of Yorkshire, England, found his first acquaintance with provincial life as the indentured apprentice of Henry Baker, with whom he immigrated in 1683. It is supposed that he lived in Buckingham as early as 1690. He married and reared a large family. Joseph Fell, ancestor of the numerous family of that name, was born in 1668 at Longlands in Cumberland. After learning the trade of a carpenter, he came to America in 1705 with wife and two children. They reached Bucks county by way of Chesapeake bay, and lived in Makefield one year, but then (1706) removed to Buckingham, where the family is numerously represented. Among the new settlers who arrived in 1704 was Thomas Watson, formerly of Pardsey Cragg, County Cumberland, Great Britain, at which place his certificate as a Friend was signed, 23d of 7th month, 1791. His wife was Eleanor Pearson, of Probank, in Yorkshire. They had a family of two sons, Thomas and John. Their first settlement was at a place then called Money hill, in the northwestern part of Falls township, from whence the family removed to Buckingham. William Carver was one of the earliest settlers of Byberry, but exchanged his lands there for a much larger tract in Buckingham, and several of his sons removed thither. Mathew Hughes, Ephraim Fenton, Robert Smith, William Lacey, John Lacey, Nathaniel Bye, Hugh Ely, Samuel Hough, John Worstall, Henry Large, Joseph Large, Richard Lundy, Jr., and Enoch Pearson were also early settlers. Mathew Hughes was a man of considerable influence, although of very limited education. He was a member from Bucks in the assembly of 1725, and justice of the peace for a long time— a greater number of years, it is said, than any other man in the county. John Watson and John Lacey were also prominent citizens of the olden time: the former as a surveyor, the latter as a soldier. Watson was educated by Jacob Taylor, of Philadelphia, who afterward became surveyor-general of the province, and appointed his pupil deputy for Bucks county. As the county was then quite large, he was assisted by John Chapman and Samuel Foulke. his business as a surveyor and conveyancer was quite extensive. Some of his peculiarities are yet remembered. He had a horror of rattlesnakes, because his father had died from a bite of that reptile. He wore loose, ill-fitting clothes, and was fond of going barefoot in the summer time. When surveying in the woods, however, he went to the opposite extreme, and wore uncommonly thick boots. He was an expert penman. Franklin relates that when, with Governor Morris and others, he was going to Easton to hold a treaty with the Indians, they came upon Watson, who had previously been engaged as secretary, mending his fences by the York road. He was introduced to the governor, who looked with some surprise upon his rough dress and bare feet, but found him a valuable and an able secretary nevertheless. Watson was commissioned by surveyor-general Nicholas Scull to assist in running the line of Maryland and Delaware. While engaged in this work Scull became ill and died. Watson thereupon became surveyor-general; but like his predecessor he incurred a malarial fever, and died at his home within a few weeks after his appointment, he was regarded as one of the most proficient members of his profession. He is buried at Buckingham meeting-house.
<![if !vml]>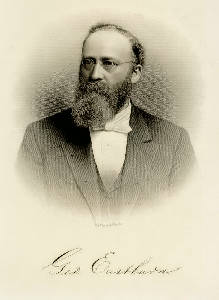 <![endif]>
General John Lacey was a Quaker, but a zealous patriot and an active officer in the revolution. His great-grandfather emigrated from the Isle of Wight, and was among the earliest settlers in the county. The family were principally farmers. The educational opportunities of General Lacey were limited. At the time of the revolution he was employed at the grist-mill of his father, and with others of his neighbors responded to the request of the county committee by organizing a volunteer militia company, of which he was elected captain. His commission from congress was dated January 5, 1776. On the twelfth of the following month he recruited his company to its full complement. They were attached to General Anthony Wayne's Fourth Pennsylvania Battalion, and directed to rendezvous at Chester. From that point the march was begun to New York, and thence continued in the direction of Canada. In April Lacey was dispatched by Wayne to Philadelphia. In his absence his command was conferred upon a Captain Moore, and Wayne declined to reinstate him. Although thus unfairly treated, he enlisted as a private, and at Ticonderoga in July he was again placed in command. In January following he resigned his commission, owing to personal difficulties with the commanding general. He subsequently rose to the rank of colonel, and participated in some of the most important engagements of the war. He was elected to the assembly from Bucks county in 1778, and became a member of council in 1779; he again appears as a soldier in 1780—81 in command of a brigade of Pennsylvania militia. After the war he removed to New Jersey, where he was interested in the iron business. Here he became county judge and member of the legislature, and continued an active career until his death, February 17, 1814.
The exact date of the separate organization of Buckingham as a township cannot be definitely determined. Its first mention as such is made by John Cutler in his resurvey of the county, 1702—3, but there is reason to believe that the township had a nominal existence some years prior to that date. The name had previously been applied to Bristol, and seems to have been a favorite of Penn, The boundaries of Buckingham were thus defined at the September term of the court of quarter sessions, 1722: "Beginning at a corner by a street which lies between Buckingham and Solebury, to run thence southwest by a line of marked trees one thousand four hundred and ninety-three perches to a corner by Claypole's land; thence northwest by said land four hundred and thirty perches to a corner; thence southwest two hundred and ten perches to a corner; thence northwest by John Rowland's land one thousand and sixty perches to a corner by the society's land; thence northeast by said land three hundred and ninety perches; thence northwest by the same five hundred and forty-seven perches; thence northeast by Richard Hill and Christopher Day's land nine hundred and fifty-three perches; thence northwest eighty perches to a corner by Thomas Brown's land; thence northeast three hundred and ninety perches, and thence by the said street two thousand one hundred and eighty-four perches to the place of beginning." Recorded September 15, 1722, by order of court. The area thus described has been considerably curtailed by the excision of its northwest corner in favor of Doylestown in 1819, but the more than eighteen thousand acres that yet remain entitle this to recognition as the most important agricultural township of the county. It has long been famous for the fertility of the soil, the abundance and variety of its productions, and the substantial appearance of its farm-houses and barns. Until quite recent years the burning of lime was an important and lucrative branch of industry. Kilns were erected some fifty years ago by James Jamison. The business received a second impetus when coal was introduced as fuel. Lime was henceforth used extensively as a fertilizer until the introduction of commercial manures of a different character. The effect of this change upon the lime interests of this section is seen in the number of abandoned kilns which appear upon every side. There are still those who hope for a return of favor to lime as a fertilizer, but even under present conditions its manufacture for building purposes might be pursued with profit if there were better facilities for getting the product to market. With the suspension of this branch of industry Buckingham remains a purely agricultural region. Its farms are not usually large,* and correspondingly well tilled. The seed farm of Samuel Wilson, near Mechanicsville, has become widely known. Many varieties of garden vegetables, flowers, and field grains have been originated and developed here. This business was established in 1876, and has expanded from year to year.
Two great highways of travel, the Durham and old York roads, pass through Buckingham, intersecting at Centerville. The former was opened through this section in 1738, the latter in 1711. In former years, and no doubt within the memory of the present generation, there passed over this road a public conveyance upon the panels of which was emblazoned this auspicious title, "The Swift Sure." This conveyance would, it was repeatedly asserted, transfer the passenger from Philadelphia to New York in three days— less obstructions such as snow-drifts, quagmires, etc. Roadside inns were not only necessary, but indispensable at that time. An institution of this character came into existence at Centerville in due time. When the stage-coach at length gave place to more rapid methods of locomotion, the old hotel witnessed the departure of its greatest prosperity. It is cherished among the traditions of the place that General Greene made his quarters here, and that other distinguished officers were his guests for a short time. A small hamlet clusters about time cross-roads. Its principal feature is a Protestant Episcopal church, founded in 1840, and usually considered part of Doylestown parish. Buckingham post-office was established at this place in 1805, with Cornelius Van Horn postmaster. A number of other localities— Mechanicsville, Forestville, Concord, Bushington, Lahaska, Pineville, and Greenville- are usually classed as villages, and their number would seem to indicate that the region is prolific in their production. Three— Pineville, Bushington, and Lahaska— are upon the township boundaries. There are two Friends' meeting-houses at Lahaska. The meetings of this society in Buckingham were held as early as 1700, at the houses of John Gillingham, William Cooper, James Streator, and Nathaniel Bye. A log church was built in 1708 on land given for that purpose three years previously. Upon the establishment of a monthly meeting in 1721 a frame building was erected. A stone house, both substantial and commodious, was built in 1731, a portion of which was set apart for women's meetings. This was burned in 1768, whereupon the present meeting-house was built. Spring Valley is the seat of Mechanics' Valley post-office. A similar relation exists between Concord and Mozart, the former being the village name and the latter that of the post-office. Forestville was formerly known as Forest Grove. The Presbyterian church at this place, founded some years ago, has been under the pastoral care of Reverend Jacob B. Krewson during the last fourteen years.
Much interest is manifested in education, and the history of the schools of the township presents many interesting passages. It is said that Thomas Watson attempted to establish an Indian school as early as 1730—40, but without success, owing to the ravages of smallpox among his pupils. In 1754 Adam Harker left a legacy of thirty-five pounds to Wrightstown and forty pounds to Buckingham monthly meeting for educational purposes. In 1768 certain residents of Buckingham united with others in Wrightstown and Upper Makefield in leasing for school purposes a tract of land "for and during the time the walls of a certain house now building on said land shall by them, their heirs or assigns, be thought sufficient to bear a roof," at a yearly rent of one peppercorn. This house was finished and used for a school many years. In 1789 thirty-two citizens of Buckingham subscribed a trifle less than one hundred pounds, with which Tyro Hall was built. This is one of the most famous schools of the township. The next educational effort was made by the Friends in 1792. The monthly meeting secured by contributions a school fund amounting to seven hundred and fifty-nine pounds. The Harker legacy, which had accumulated to a considerable sum, was applied to the education of poor children. Legacies have since been added by Joseph Walker, Jonathan Ingham, and Thomas Watson. The school building was erected in 1794. The Orthodox branch of the society subsequently built a second school-house. Schools were also established at Carversville, Forestville, and Bushington. In 1811 Amos Austin Hughes bequeathed a farm of ninety-one acres and eight thousand dollars in money to establish a charity for the education and maintenance (when necessary) of poor children. In 1841 a school-house was built, and within a few years thereafter the trustees employed Joseph Fell as teacher. The public-school system was adopted in 1834, the first board of directors being Pryor Kirk, Joel Worthington, James Jamison, William Beans, Jesse Reeder, and Robert Smith. Of the public schools that known as Union claims to have graduated a judge, a general, and a millionaire; while Buckingham hill numbers among its former pupils the first two county superintendents, Joseph Fell and William H. Johnson; five judges, Honorables Edward M. Paxson, of the Supreme Court of Pennsylvania, Richard Watson, of Bucks county, Hampton Watson, of Kansas, Alfred Shaw, of New Orleans, and D. Newlin Fell, of Philadelphia; two generals, Andrew J. Smith and John Ely; and three members of Doctor Kane's exploring expedition. The old Union school-house was built in 1823; Church's is so named from Joseph Church, upon whose land it was built; Hickory Grove was formerly known as the octagon, or eight square; Independent was built in 1844, Friendship in 1848, and Greenville in 1863. At the present time (1887) eleven public schools are sustained an annual term of nine months.
SOLEBURY first appears in the records of the court of quarter sessions in 1709, when it received the appointment of a constable jointly with Buckingham. It is possible that this arrangement may have existed prior to that date, but there is no evidence in proof of this in the records of the court. The earliest mention of the name yet discovered occurred in 1702. It appears that William Beakes was granted one thousand three hundred acres of land, five hundred and eighty of which he located "at Quatielassy, in the county of Bucks, above the manor of highlands," that being the way in which the location was designated at the time, probably prior to 1690. The landmarks having become indistinct, Phineas Pemberton, on the twelfth of eighth month, 1702, was given a warrant for its recovery, and the location is given as "Quatielassy, in Solebury, in the county of Bucks." Pemberton died before executing his commission, and John Cutler, who succeeded him, returned the survey as six hundred and twenty-four acres, eighteen perches, nearly one square mile. The land adjoining was owned at that time by Paul Wolf, Edward Hartling, Randal Spakeman, and William Croasdale. The Beakes tract was at the mouth of the Cuttelossa. Among others who held lands in northeastern Solebury was Samuel Beakes, whose tract of three hundred and fifty acres was surveyed by warrant of October 15, 1702, and confirmed by patent March 14, 1703. On the eleventh of sixth month, 1703, William Croasdale purchased from the commissioners of property two hundred and fifty acres; prior to the making of his will in 1687, George White became the owner of fifteen acres of land. Henry Paxson purchased two hundred and fifty acres from Croasdale in 1704. "Pikeland," a tract of six hundred and twenty-four acres, was confirmed by patent to Joseph Pike, December 3, 1705. March 19, 1714, it passed into possession of Ebenezer Pike, who willed it in 1724 to Richard Pike, of the city of Cork. January 7, 1763, Joseph Eastburn, Sr., purchased a portion of this tract. It has remained in his family since that time, and was given the name of Rabbit Run farm by the present proprietors. At the time of Cutler's survey nearly all the land was seated. Thomas Story owned one thousand acres; George White, fifteen hundred; Thomas Carns, four hundred and fifty; John Scarborough, about five hundred; Sypke Anke, three hundred; James Logan, five hundred; William Beakes, about six hundred; and others, tracts of varying size. James Pellar was an early settler, and is said to have built a house in 1689 in this township. Jacob Holcomb was a resident in 1700. Samuel Eastburn, whose father was living in Philadelphia in 1700, is thought to have been the first of that name in this county, whither he removed in 1728. Edward Blackfan, a connection of the Penns and a resident at Pennsbury for some years, removed to Solebury about 1720. The following is a partial list Of residents in 1730: Henry Paxson, William Paxson, James Paxson, George Pownal, Isaac Pellar, John Scarborough, William White, Edward Beck, Joseph Duer, Francis Hough, John Hough, Thomas Brown, John Skelton, Edward Hartley, Roger Hartley, Nathaniel Bye, Joseph Lupton.
Among others who may be classed as early settlers were John Schofield, John Rich, William Neely, Edward Rice, and Mr. Hutchinson, of whom but little more is known than the fact that they once lived here. Schofield came from Buckinghamshire, England, probably before 1720. Thomas Canby was an early settler, and is said to have been greatly in favor with the Indians. "Until a sufficient quantity of grain was raised for themselves and the newcomers, all further supply had to be brought from the Falls or Middletown; and until 1707 all the grain had to be taken there, or to Morris Gwin's, on the Pennepack, below the Billet, to be ground. In that year Robert Heath built a grist-mill on the Great Spring stream in Solebury. This must have been a great hardship, to go so far to mill for more than seventeen years, and chiefly on horseback. It was some time that they had to go that distance with their plow-irons and other smithwork. Horses were seldom shod; and blocks to pound hominy were a useful invention borrowed from the natives." The oldest mill in Solebury with which the present generation has any acquaintance was built by Samuel Armitage about 1750, midway in the course of the Cuttelossa, the first in the neighborhood or upon this stream. Armitage was from Yorkshire, England. He was a weaver by trade, but possessed also considerable mechanical ability. The enduring structure built by him was justly regarded as one of the most complete of its kind. The Cuttelossa has lost nothing of its romantic beauty, nor has the "Great Spring" (otherwise known as Ingham's and Aquetong) ceased to excite the wonder of the visitor. Some idea of its magnitude may be gained from the fact that the volume of water is sufficient to furnish motive power for several mills. The remarkable flow of water and its apparently inexhaustible source render Aquetong a noticeable feature of the township.
An equal degree of interest attaches to the Solebury copper mine, the discovery of which opened a wide field for speculation among the curious. The main shaft, running northwest from the entrance, is four feet wide, seven feet high; sixty-six feet from the entrance it crosses a chamber about fifteen feet in diameter, seven in height, with a stone pillar near the center. The drift extends twelve feet eastward from the chamber. To the right of the latter is the main shaft to the surface, six feet in diameter and about thirty in height, which descends through the chamber to a depth of twenty-two feet, and at the bottom a second drift is encountered, extending northward fifteen feet. A tradition concerning the existence of the mine has always been current in the neighborhood. A considerable depression in the ground above the hill, and an intermittent spring at his side, with other indications, induced Mr. John T. Neely, in 1854, to seek their cause, and confirm by his discoveries the general belief of the inhabitants. The spring was found to be the opening of the drift, and the depression that of the shaft. The land surrounding was originally seated by William Coleman, from whom it passed to a company composed of James Hamilton, Langhorne Biles, Joseph Farren, William Plumstead, William Allen, and Lawrence Growden, all of whom are known to have been interested in Durham furnace. They disposed of the land in 1753 to Robert Thompson, reserving the "full and free liberty, license, and authority to dig, search, and work for copper, lead, or iron ore, and the right of way to and from the mines to the river Delaware." There is no evidence that they or any subsequent purchasers made the original excavations. Indian tradition asserts most clearly, however, that "white men worked" the mine. Who they were, whence they came, and what disposition was made of the minerals they extracted, are among the secrets of history.
Independent of the mine as a subject of historic interest, the locality is not without other associations of a similar character. Within a short distance Washington and his generals met to plan the battle of Trenton, and all around their troops were quartered. It is said that a miller in the vicinity took a supply of flour to Trenton a few days before Christmas, and returned with much important information for the commander-in-chief. At the top of Bowman's hill is the reputed burial-place of Dr. John Bowman, who, it is said, was surgeon in an English fleet sent out to capture Captain Kidd, but turned pirate himself, came to Bucks county after Kidd was hanged, built a cabin at the foot of the hill, and excited the curiosity of the inhabitants by his frequent ramblings over the hill. The story is probably derived largely from their excited imaginations.
There are other landmarks of the past of which the history is less obscure, and their influence upon the present more clearly defined. Among these is the York road, opened in 1711 from Center Bridge to Philadelphia, largely through the efforts of residents of Solebury. It has always been a great thoroughfare. After breaking up his camp at Valley Forge, General Washington and his army traversed this route on their way to New York. The river ferries were also locally important, but their early history is indistinct. Toward the close of the last century, four ferries— Wall's, Painter's, Mitchell's, and Coryell's— seem to have been on an equality as to patronage, with a possible preponderance in favor of Mitchell's and Coryell's, induced by their position upon the arms of the York road. A change in the relative importance of these places was first apparent in the decade following 1784. That year is rendered important by the advent of Benjamin Parry into time quiet neighborhood about the mouth of Aquetong creek. That stream was already utilized for various purposes. Philip Williams established a fulling-mill along its bank in 1712, a saw-mill and forge were added to this about 1743, and the grist-mill of Robert Heath was still in operation. The ferry was established in 1722 by Emanuel Coryell upon the Jersey shore, John Wells having previously been ferryman upon time Pennsylvania side. The honors of the name were sometimes with the one family and sometimes with the other. Parry secured a mill-site upon the Aquetong in 1784, and at once engaged in active business. He established the manufacture of linseed oil, and extensive lumber-mills. He was interested in the development of timber lands at the head waters of the Lehigh, and from this locality the lumber manufactured at his mill was drawn. He operated Prime Hope mills in Hunterdon county, New Jersey, and New Hope mill on this side of the river. Beside these local enterprises, he was also engaged in business at Philadelphia. Three other men— William Maris, Lewis S. Coryell, and Joseph D. Murray— contributed largely to the business importance of the town. Maris was a builder, and erected some of the largest and most substantial houses in the county at that time. Coryell was a carpenter, but was also a civil engineer of great skill. He was associated with Parry in many of his enterprises, but is best remembered as a persistent advocate of public improvements, and for the wide political influence he wielded. Murray was a native of North Carolina, whence he removed to Philadelphia in 1812, and thence to New hope five years later. He entered into partnership with Coryell in contracting for the canal excavations through New hope, and for other work in the construction of locks, etc. These men made New Hope the most active business town in the county. Hulmeville possessed something of the same character, but Bristol, although larger, was not a manufacturing place, and Doylestown had little else than a recognized existence.
The crowning effort of this coterie of business men, the most substantial reminder of the prosperity they brought about, and possibly the cause of its departure, is the New hope Delaware bridge. The inception of this enterprise is generally attributed to Benjamin Parry. The first effort to organize a company was made September 25, 1811, at the public house of Garret Meldrum, in New Hope. Benjamin Parry, Samuel D. Ingham, Joseph Lambert, Cephas Ross, and Jeremiah Kershaw were constituted a committee of ways and means. The company was incorporated by the legislatures of New Jersey and Pennsylvania, December 23, 1812. The following persons were time principal subscribers: Benjamin Parry, Samuel D. Ingham, Hugh Ely, John Beaumont, Robert T. Neeley, John Coryell, Charles Stewart, John Keith, Joseph Lambert, Leopold Nottnagel, Isaac Landis, Francis Murphy, John Parker, David Heston, John Holcomb, Daniel Parry, Richard Corson, Joshua Vansant, Richard Leedom, Enos Addis, Wilson Lambert, Bishop & Kershaw, Solomon Landis, Joseph Stout, Amos Taylor, Jeremiah Kershaw, G.W. Lambert, A.L. Ross. The total cost of the structure was sixty-seven thousand, nine hundred and thirty-six dollars and thirty-seven cents. Charles Stewart, one of the contributors, was a commodore in the United States navy, commander of the historic Constitution, and grandfather of Charles Stewart Parnell, the Irish agitator. The work of construction was begun in April, 1813, and the first vehicle crossed September 13, 1814. The charter of the company also conferred banking privileges; and two banks were opened, that in New Hope being situated in a large double brick building on Bridge street, and that in Lambertville at the corner of Union and York streets. The bank failed in 1826; the bridge was sold to satisfy its creditors, and finally passed into possession of Samuel Grant, Esq., of Philadelphia, who purchased it November 29, 1853. The property with all its franchises was purchased in 1887 by a number of persons interested in reviving the original organization. This was effected at Camden, New Jersey, May 7, 1887, when Charles S. Atkinson was elected president; John S. Studdiford, Richard Randolph Parry, Charles Crook, T.T. Eastburn, Joseph P. Stockton, and Watson P. Magill, directors; John S. Williams, secretary and treasurer. And thus, after experiencing many changes, the bridge is again vested in a local company, as at the beginning of its history.
<![if !vml]>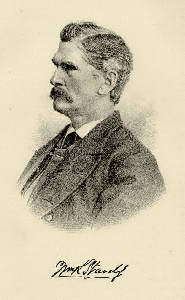 <![endif]>
New Hope was incorporated as a borough April 26, 1837. The first election resulted in the choice of John Parry, burgess; Jonathan Johnson, constable; Joseph D. Murray, D.K. Reeder, Mordecai Thomas, Isaac McCarty, and Sands Olcott, councilmen. The population in 1840 was eight hundred and twenty; in 1850, one thousand one hundred and thirty-four; in 1860, one thousand one hundred and forty-one; in 1870, one thousand two hundred and twenty-five; in 1880, one thousand one hundred and fifty-two.
The opening of the canal in l831 deferred for a time the evil results occasioned by the collapse of the bank, but the former prosperity never returned. The opening of the Belvidere Delaware railroad in 1834 gave to Lambertville a powerful ascendency, and from that time New Hope virtually has remained stationary. It has been the objective point of several railroads, but the expectation of the citizens in this respect have been uniformly disappointed. The present manufacturing interests comprise a twine factory, owned and operated by John King, Esq., of New York; a cotton factory, owned by Joseph Whitely; and the works of the "Union Mills Paper Manufacturing Company," of which Messrs. F.W. Roebling, Clark Fisher, B.F. Lee, John A. Hall, and Edward R. Solliday are constituent partners. "Union Mills" have existed in name since 1817, when Lewis S. Coryell and Joseph D. Murray operated a saw-mill and grist-mill by water-power derived from the Delaware at Wells's falls. They were succeeded by the Ball Lock Company. These locks attained a wide celebrity, but the venture was not a financial success. William and Charles Crook took possession of the property, and for a score of years conducted the manufacture of agricultural implements with a greater degree of success than their predecessors. James M. Patton next utilized the water-power in grinding barytes and other chemicals. Then, for twenty-five years or longer, the property was allowed to rust and decay, until, in 1880, it was purchased by the present proprietors. They at once removed the dilapidated buildings that then marked the former presence of active industry. The present plant represents a cost of one hundred and fifty thousand dollars. A motive force of three hundred horse-power is derived from three turbine waterwheels, one hundred and eight, eighty-seven, and fifty-seven inches in diameter respectively. Exclusive attention is given to the manufacture of manilla wrapping and copying paper. The cylinders used are eighty-eight and sixty-two inches wide, the average capacity per day being about six tons. The annual product is valued at twenty-five thousand dollars. A pumping station at this place supplies the canal with water.
Three religious denominations are represented in New hope— Methodist Episcopal, Presbyterian, and Roman Catholic. Methodism was introduced about 1830 by Reverend Daniel Bartine, who preached occasionally at the house of Samuel Sutton. Soon afterward Reverends Edward Page and Asbury Boring began to hold services with some regularity, first at Mr. Sutton's house and then in the academy building. The first class numbered seven, viz., Mr. and Mrs. Samuel Sutton, Mr. and Mrs. Newland, Mrs. Hibbs, Pettinger, and Vansant. The appointment was attached to Bristol circuit, of which D.W. Bartine and James Hand were then in charge. Among those who have since preached there were Reverends R. Owen, Samuel Irwin, M. Caskey, J.D. Custis, W.H. Elliott, John Ruth, D.D. Love, W.H. Williams, ----- Gentner, J.W. Author, C.J. Crouch, M. Sisty, John Edwards, Alfred Cookman, M.A. Day, J.H. Turner, J.A. Watson, N.C. Stockton, ----- Hickman, N.J. Paxson, W.B. Wood, George Quigley, and D.L. Patterson. New Hope became a station about 1855, and William Mullen was appointed preacher in charge. His successors in this capacity have been: O.W. Landreth, C.T. Frame, J. Walsh, E.E. Stevens, L. Dobson, W.P. Howell, W.J. Mills, N.D. McComas, L.B. Brown, S.B. Best, Garbutt Read, and Frank B. Lynch, the present incumbent. The first church building was erected in 1836—37. The present one, the finest M.E. church in the county, was dedicated June 7, 1874, and October 1, 1880. It is a stone structure, seventy by forty-four feet, with two floors, the first comprising vestibule, class-rooms, infant school, and Sunday school rooms; a wide stairway ascends to the audience-room, which is well furnished, and has a seating capacity of five hundred.
St. Martin of Tours parish, New Hope, Reverend Peter Quinn, pastor, originated in 1885 in the labors of Reverend Henry Stommel, of Doylestown. He was delegated by the archbishop; and on Sunday, February 22, 1585, called a meeting of the Catholic residents of the place, at which the advisability of building a church edifice, and the ability to do so and support a pastor were considered. The matter was held under advisement for a time, and no definite action taken until four weeks later, when it was decided to build. Father Stommel had meanwhile purchased six acres of ground, which was now transferred to the bishop of the diocese. The work of building was at once begun. The corner-stone was laid, May 3d, by Reverends Stommel and Brady. July 12th two new bells were blessed. Two children were christened in the church on that day, and on the following Sunday time first mass in the new structure was celebrated. August 16th to 23d Father Stommel conducted a mission, at which four persons professed conversion. August 20th, the first wedding occurred, and September 7th the first funeral, that of Mrs. Elizabeth Pidcock. The dedication occurred September 17th, Archbishop Ryan officiating, four clergymen being present. The sacrament of confirmation and baptism were administered, and solemn mass celebrated in the presence of a large concourse of people. The ceremonies throughout were most impressive. The archbishop and his retinue entered the town from Lambertville. The procession consisted of the clergy, an escort of thirty young men on horseback, bands of music, and a number of private carriages, pedestrians, etc. Triumphal arches had been erected at various places on the way to the church, and the streets were lined with people. This was the most imposing civic or religious demonstration the town has ever known.
The church edifice is a solid stone structure, eighty by forty feet in dimensions, with a sanctuary in shape of a bay window at the south side, and sacristy annexed. The first floor consists of eight rooms, the residence of the priest. The tower is about one hundred feet high. The interior arrangements of the audience-room are substantial and attractive. The seating capacity is four hundred. The cemetery adjoining was laid out and blessed September 6, 1885. Father Stommel continued in charge as pastor until October 18, 1886, when, in the afternoon at three o'clock, he installed as the first regular pastor Reverend Peter Quinn. The numerical strength of the parish is estimated at four hundred souls.
The Presbyterian chapel is connected with the Thompson Memorial church. It was built in 1874—75 through the efforts of R. Randall Hoes, a graduate of Princeton college and prospective student of theology. The chapel is a neat frame structure, with seating capacity of two hundred, and cost about twenty-three hundred dollars. A Sunday school was established and conducted by the Lambertville Presbyterian church. Reverend P.A. Studdiford preached occasionally, but in 1876 the chapel and its worshippers were transferred to the church with which it is now connected, of which Reverend Dwight C. Hanna is pastor.
Of the present houses in the town the oldest is that known as the Vansant property. Of others, built prior to 1817, the following are still occupied:
The Parry and Paxson mansions, the frame building and hotel opposite the former, the stone house on Front street corner of Mechanic, Dr. Richard Corson's residence on Ferry street, the frame house on Front adjoining William H. Murray's store, built in 1808 by John Beaumont, in which Mr. Murray has lived since 1817. The Parry mansion was built in 1784 by Benjamin Parry. Three years were consumed in building, but the completed structure amply justifies the pains thus bestowed. It was at that time, and remains to-day, one of the most substantial residences of the county. Over the main entrance is the quaint bonnet or hood then considered indispensable and never removed. Beneath is the old-fashioned oak door with transverse panels and massive hinges, brass knocker, and cumbrous lock. This opens into a wide hail, extending through the middle of the house, with a long parlor on one side, dining-room and drawing-room on the other. Upon the walls are family portraits and other carefully preserved heirlooms. The upper floors are reached by a stairway of easy ascent. Upon the landing half-way up stands the old eight-day clock, which has ticked in and ticked out the lives of several generations of the family. Five rooms communicate with the upper hall. There is an attic overhead, and far up amid the rafters a secret room, the receptacle of valuable papers in the time of the original owner. No efforts have been made to modernize the stately old pile, and it is to be hoped that it will long remain what it now is— a true type of eighteenth century architecture. "Maple Grove," the home of the Paxsons, has been materially changed, unfortunately for its importance in the eyes of the antiquarian. It was originally an old-style, double stone mansion, two stories in height, with attic above, the front door opening at time center into a wide hall, with rooms on either side. The windows throughout were filled with the quaint, old-fashioned, diminutive panes of "ye olden time." Much of the original structure still stands, although the present owner has remodelled it to a great extent, and it now presents the appearance of a handsome modern residence. From the south the house is approached by a broad avenue lined with trees, leading to the York road. An old tree just east of the end of the lane is pointed out as the one to which General Washington tied his horse while his army was crossing the river. The date when the house was built has never been accurately ascertained, although it is known that Oliver Paxson was its first occupant. It was probably erected in ante-revolutionary times.
Although the oldest and most important town in Solebury, New Hope does not monopolize that distinction. The post-villages of the township are Lumberville, Carversville, Center Bridge, Aquetong, Lahaska, and Buckmansville. Peter's Corner, Center Hill, and Lumberton are places of secondary importance. Lumberville was given its present name in 1814 by Messrs. Heed and Hartley, who were then engaged in the lumber business there, previous to which it was known as Wall's Landing, Colonel George Wall having been proprietor of the mills, justice of the peace, surveyor, and conveyancer. The bridge was in process of erection from 1854 to 1857, and cost eighteen thousand dollars. A Methodist church was built in 1836, Reverend J. Finley having formed a society three years previously. Lumberton is situated at the junction of the Cuttelossa and the Delaware. There was a mill at this place long before the revolution, of which William Skelton was proprietor in 1771, when he sold it to John Kugler. George Warne became the owner in 1782. Reuben Thomas and Jacob Painter were the next proprietors. In 1800 the place comprised a tavern, store, and grist-mill. John Gillingham built a new sawmill in 1816, and projected other improvements. In 1825 Samuel Runk, who rented the hotel from Jeremiah King, asked his landlord for a new sign, which was refused. Thereupon he extemporized one bearing the suggestive legend, "Hard Times," by which name the place was known until 1833, when John E. Kenderdine conferred upon it that which it now bears. The most noteworthy feature of the place is its quarries, the property of William H. Kemble, of Philadelphia. The product consists mainly of Belgian paving stones. The available ledge of so-called granite is practically inexhaustible. A wire-rope tramway connects the quarries with the Belvidere Delaware railroad on the opposite side of the river. Center Bridge is so known from its position about midway between Lumberville and New hope. Among its active citizens at the beginning of the century was John Mitchell. The bridge was built in 1813, mainly through his efforts. A thrilling incident occurred in connection with this bridge in 1841. George B. Fell, a merchant in the vicinity, walked out upon it to obtain a view of the river, which was rising rapidly. While in this position the part upon which he stood was swept from the piers, and the unfortunate gentleman, who could not swim, began his perilous journey down the Delaware. Measures were at once taken for his rescue. Hiram Scarborough, of New Hope, put out from the Pennsylvania shore in a small boat, but failed to reach Mr. Fell, who was seen to emerge from under the bridge at that place upon a raft of driftwood. William H. Murray had just crossed the bridge to give the alarm on the Jersey shore, when the two piers on that side were swept away, and the danger of the hapless voyager in mid-stream doubly increased. Mr. Fell passed under the Taylorsville bridge in safety, and at Yardley Edward Nickleson repeated the efforts of Mr. Scarborough, and succeeded in bringing the exhausted and despairing man to shore.
The Lahaska Methodist church is about all of that village that is in Solebury. It was built in 1853 at a Cost of one thousand dollars, and enlarged in 1868. Reverend M.H. Sisty was the first pastor.
The Solebury Baptist church originated in the labors of Reverends George Young and J.P. Walton of the First Baptist church in Lambertville, N.J. The former first preached in the vicinity of Paxson's corner in the winter of 1840, and in the following spring the first four converts were baptized; the latter, his successor at Lambertville, instituted regular services, and in December, 1842, conducted a protracted meeting in a school-house not far from the present church edifice, at which many were converted. The necessity of a church organization was now apparent, and at a meeting March 6, 1843, favorable action on the subject was taken. Definite action was taken March 28, 1843, when thirteen members, with Reverends Joseph Matthias, H.G. Jones, Joseph Wright, and J.P. Walton, convened to organize. The church was constituted with the thirteen members present May 10th following. Reverend Walton was elected pastor, John and Jacob Naylor deacons, and Albert Edwards clerk, and the membership increased to thirty-three before the close of the year. September 5, 1846, Mr. Walton resigned. During the three years following Reverend W.B. Swope of Lambertville supplied the pulpit. Reverend Joseph Wright was pastor from 1849 to 1853; Joseph N. Folwell from 1853 to 1855; William Birdsall, 1857; Samuel G. Kline, 1859; Martin M. King, 1859—63 Silas Livermore, 1865—66; George H. Lavison, M.D., 1869—76; Charles H. Thomas, 1876—78; C.H. Frame, 1879—82; George H. Lavison, M.D., 1882—85; W.P. Hile, 1885 -----. The church edifice was begun in 1844, finished in 1851, and remodelled in 1869. Much of the later prosperity of this church is directly traceable to the personal efforts of Dr. Lavison.
The "Thompson Memorial Church of Solebury" was organized in 1813 as the "Presbyterian Church of Solebury." Many of the original members were formerly connected with the Presbyterian church of Newtown. Among this number were William Neely, Richard Corson, and Mrs. Samuel D. Ingharn. Dr. Amazi Armstrong, of New Jersey, seems to have been especially active in agitating the building of a church edifice, which was effected in 1812. The church was formally organized on the third Sunday of April, 1813, by Dr. Wilson, under direction of the Presbytery of Philadelphia. William Neely, Benjamin Pidcock, Thomas M. Thompson, and David Wynkoop were elected ruling elders. No records are extant for the first nine years, but it is known that Reverends Samuel B. Howe and Thomas Dunn were pastors during part of that time. In the autumn of 1821 Peter O. Studdiford, a licentiate of the New Brunswick Presbytery, was called as stated supply. Four years later he became pastor, and so continued until June, 1848. his successors were as follows: W.H. Kirk, 1849—53; Henry E. Spayd, 1853-67; Henry Calkins, 1868—73; William Dayton Roberts, 1876—81; Henry D. Lindsay, 1883—84; Dwight C. Hanna, 1886 ----. The present stone church edifice was built in 1875 by William Neely Thompson, Esq., of New York, in memory of his father, Thomas M. Thompson, one of the founders of the church. It was dedicated October 13, 1875, Reverend P.A. Studdiford officiating. It is a stone structure, one of the most beautiful in the county.
The Carversville Presbyterian church was organized in 1870 by Reverend F.R.S. Hunsicker, whose pastorate ceased December 31, 1883. Reverend Henry G. Gleiser has since been in charge. The Solebury Friends' meeting was first held 12 mo. 30th, 1806, in a commodious meeting-house about the center of the township, the constituent members having previously worshipped at Buckingham, from which meeting they received much pecuniary aid. This is the predominant religious body in the township.
Among the distinguished men of Bucks county birth Solebury is represented by Major Andrew Ellicott, the most eminent of a family of whom all were above mediocrity and upon which a rare degree of talent seems to have been conferred. He was born January 24, 1754. Though of Quaker parentage, he commanded a company of the Maryland Line during the revolution. His scientific attainments soon attracted public attention, and in 1784 he was employed on behalf of Virginia in fixing the boundary line between that state and Pennsylvania. In 1786 the supreme executive council of the latter state commissioned him to survey its northern boundary line. In 1788 he was directed to make a survey of the islands in the Allegheny and Ohio rivers in western Pennsylvania. In 1789 he was commissioned by the United States government to survey the western boundary of New York state, and ascertain the validity of the claim of that state to the site of Erie. His valuable service in this responsible duty seems to have been duly appreciated, for he writes upon its conclusion: "General Washington has treated me with attention. The speaker of congress and the governor of the state have constantly extended to me most flattering courtesies." In 1790 he was employed by the general government to survey and lay out the District of Columbia and Washington city. In 1796 Washington appointed him commissioner to establish the boundary line between the United States and the Spanish possessions. One important trust succeeded another, and for forty years he was constantly employed in some public capacity. In March, 1801, Jefferson appointed him surveyor-general of the United States. In September, 1813, he was appointed professor of mathematics at West Point; he removed to that place the same year, and there died, August 28, 1820. President Hale thus summarizes his career: "The memoirs of Andrew Ellicott, when written, will form a valuable addition to the history of our country, taking us away from the beaten ground of battlefields and senate chambers and cabinets to the services which science can render in the settlement of a new country in a civilized age." His family removed to Maryland in 1770, and there established important manufactures on the Patapsco river; a town has grown up at this point and bears the name of Ellicott City.
Samuel D. Ingham occupies a conspicuous place among those who have risen from obscurity to commanding influence. Born at Great Spring, in Solebury, September 16, 1779, he succeeded to little else save an honorable name. His great-grandfather, Jonas Ingham, settled at Trenton about 1705. In 1710 he removed to Solebury and purchased from James Logan the property long known as Ingham Spring. Jonathan Ingham, Sr., the grandfather of Samuel D. was born here in 1710, and his son Jonathan, the father of Samuel D., July 16, 1744. The latter was a physician, and rose to eminence in that profession. He lost his life during the yellow fever epidemic in Philadelphia. At the time of his death Samuel was the oldest surviving son, and resolutely assumed the care and maintenance of his widowed mother and her dependent family. He became an apprentice at the paper-making business in an establishment on Pennypack creek. Here, through much persevering effort, he acquired an education. At the age of twenty-one he returned to his mother's home and took charge of a paper-mill on the Great Spring stream. August 25, 1801, he married Rebecca Dodd, of Bloomfield, N.J., a lady of Puritan extraction, who exercised a favorable influence upon his character.
His political career began in 1805, when he was elected a member of the Pennsylvania legislature, in which position he was continued three terms. Previous to this he had been actively interested in township and county affairs, and was several times secretary of the democratic county conventions. Upon his declination of a third legislative term, Governor McKean commissioned him a justice of the peace, for which position his judicial temperament well qualified him. His interest in the welfare of the community is shown by the active support he rendered the New Hope bridge project, the ultimate success of which he was largely instrumental in accomplishing. In 1812 he was chosen a representative in congress from this district by a majority of two thousand; he was again chosen in 1814 by an increased majority, and in 1816 he was elected to a third term, but the failing health of his wife prompted his resignation. He then accepted the position of prothonotary of this county, and removed his residence for a few years to Doylestown. Governor Findlay appointed him secretary of the commonwealth in 1819, an office which be filled with ability to the close of the gubernatorial term. In 1822, 1824, 1826, and 1828 he was a member of congress. For some time he was chairman of the committee on post-offices and post-roads, and a member of the ways and means committee, and his influence in shaping the legislation of the period was marked. In 1828 he was among the warm supporters of General Jackson, as he had also been four years previously, when Adams was elected by the house of representatives. Ingham thereupon wrote a pamphlet violently denouncing this subversion of the popular will and warmly advocating Jackson's claims. The latter was a man of intensely ardent personal feelings. The important political support Ingham had rendered was regarded by him as the strongest claim of the latter upon his gratitude, and in 1829 he nominated him to the second position in his cabinet, the treasury portfolio, for which his natural ability and long political career were regarded as sufficient qualifications. The United States bank was at this time in the full tide of prosperity, but for reasons that need not be here explained the president's attitude toward it was hostile. This was one of the first subjects that engaged Mr. Ingham's attention. His views, and also his style of thought and expression, are shown in the following extract from a communication to Nicholas Biddle regarding the bank: "Having labored ardently to create it, I may not be supposed the first to contaminate or decry it; but however imposing its attitude, if once satisfied that the powers of its charter and the resources of its wealth are debased and perverted to practices at war with the liberties of the country and the rights and liberties of my fellow-citizens, no consideration of a personal nature will curb me in exercising the legal power with which I may be invested, to check its tendencies and reform its abuses; and it will be my care, not less than my duty, never to surrender any of the rights vested in the government for this purpose." Mr. Ingham resigned the office of secretary of the treasury in April, 1831, and relinquished the duties of that position in August following. His political policy was almost universally endorsed by his Pennsylvania constituents, and the president himself expressed entire satisfaction with his management of "the fiscal affairs of the nation." But the caprice, obstinacy, and virulence of Jackson in his personal antipathies were such as to render the dissolution of his cabinet unavoidable, however ably the functions of its members were administered. Mr. Ingham was subsequently interested in the development of the coal regions of this state and in various internal improvements. He died June 6, 1860, at Trenton, New Jersey, and his remains are interred in the graveyard of the Thompson Memorial church, Solebury.
<![if !vml]>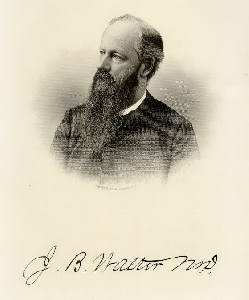 <![endif]>
General Zebulon M. Pike represents the military profession among Solebury's distinguished trio. Born at Trenton January 5, 1779, his father removed to Lumberton within a few years, where he was reared and secured his early education. In youth he enlisted in the company of his father, Captain Zebulon Pike, who was stationed with the regular army on the frontier. January 3, 1799, he was commissioned ensign in an infantry regiment, of which he became second lieutenant April 24, 1800. He advanced rapidly in the esteem and confidence of his superiors. When the Louisiana purchase was consummated and the government took measures to explore and define its limits, he was selected for this responsible mission. August 9, 1805, with a small body of soldiers and scouts, he embarked at St. Louis, the first explorer of the great northwest under the auspices of the United States. He was at once commanding officer, surveyor, astronomer, naturalist. The expedition returned in nine months, having fairly accomplished its object. He was shortly afterward dispatched on a similar mission to the region of the Arkansas and Red rivers, involving perils and hardships of which it is impossible to form an adequate conception. In July, 1807, his party emerged from the vast wilderness they had traversed at Natchitoches, and Pike received the thanks of congress in a resolution expressive of appreciation of his "zeal, perseverance, and intelligence." A narrative of the various journeys he had performed, prepared by himself, was published in 1810. It reached several editions and was republished at London and Amsterdam. The author relinquished his literary labors in 1813, when he resumed his military life as the commander of a force of fifteen hundred men for the invasion of Canada. At York, April 27, 1813, he met his death by the explosion of a magazine of the retiring garrison. His career presents many interesting experiences.
* In 1787 Michael Walter owned five hundred acres of land; Thomas Watson, three hundred and sixty Dr. John Watson, three hundred and forty—seven Timothy Smith, two hundred and ninety; William Preston, two hundred and fifty; John Malone, two hundred and forty; William Kimble, two hundred and sixty; Amos Hughes, two hundred and eighty-six; David Gilbert, two hundred and sixty; Samuel Fenton, two hundred and forty Joseph Carver, two hundred and forty; John Beal, two hundred and ninety-eight; Thomas Bye, three hundred and eighty-three; William Bennet, three hundred and twenty-three; Samuel Harrold, two hundred and thirty-five. There were seventy-seven farms ranging in size from one hundred to two hundred acres A comparison of this with the size of farms at the present day is suggestive.