Part of the PAGenWeb Project
Researching your genealogy in Warren County, Pennsylvania?
---
March 16, 1819, an act was passed providing for the separate and independent organization of Warren County.
Finding your family genealogy in northwestern Pennsylvania is complicated due in part to changing county and township boundaries. Prior to becoming Warren, this land was also part of Allegheny, Crawford, Lycoming, Northumberland and Venango counties. Township boundaries changed; a few townships were divided and dissolved.
While the links below may provide helpful information about the family history and genealogy of Warren County, nothing beats a visit to the homeland.
Spring and fall are spectacular times to visit.
Your ancestor may be mentioned numerous times, but on different pages...

Search this website to find them all.
The historical society is housed next to the grand and stately courthouse. Both are filled with amazing records.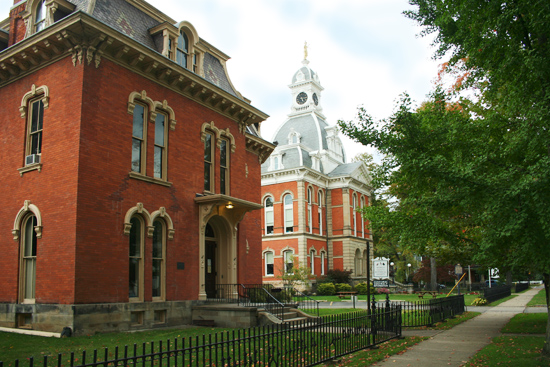 Within easy walking distance, the main library in Warren has a comfortable research room with an extensive cache of microfilmed newspapers and a birth-death index to those microfilmed newspapers.
Their "Pennsylvania Room" houses a wide collection of Warren county material and more.
Your comments and suggestions are encouraged! Please share your family histories - you will likely find others who are also researching your family.
Email: Warren County coordinator
Warren County PAGenWeb makes no claims or estimates of the validity of the information submitted.
Please research and prove or disprove by weight of evidence each new piece of information.
It is always best to consult the original material for verification.
Current data: According to the U.S. Census Bureau, the county has a total area of 898 square miles. Land comprises 883 square miles; the remaining area is covered with water. Within the county, there are five boroughs and twenty one townships. The county seat is Warren. Notable physical features include the
Allegheny River
Kinzua Dam
Allegheny National Forest
Hearts Content National Scenic Area, a tract of old-growth forest
---
What's New?
December 31, 2016 Photographs of the Warren County Courthouse and the icon landmark in Warren, the flatiron National City Bank building.
November 9, 2016 Two new postcard images plus eight new biographies beginning with the surname letter "C" from History Of Warren County Pennsylvania with Illustrations and Biographical Sketches of Some of Its Prominent Men and Pioneers, edited by J.S. Schenck, 1887.
March 6, 2016 All biographies with the surname beginning with the letter "B" from History Of Warren County Pennsylvania with Illustrations and Biographical Sketches of Some of Its Prominent Men and Pioneers, edited by J.S. Schenck, 1887, are online.
February 7, 2016 Not sure how to begin your research into your family? Check out this helpful USGenWeb page Starting Your Genealogy Research - The Basics. Access this page from the menu above under "Starting Your Research."
February 1, 2016 The Lounsbury cemetery in Elk township also has a new page with photographs and directions, both from Warren and from the nearby Clendening cemetery.
January 14, 2016 Old Scandia cemetery has a new page complete with photographs and directions.
Also visit What Was New 2008 - 2009 | What Was New 2010 - 2011 | What Was New 2012 - 2013 | What Was New 2014 - 2015
---
My name is Penelope Repko, Warren County coordinator. While I cannot help you personally with your family genealogy, I would be happy to post a link to your genealogy website, a link to relevant Warren County data, or post your transcribed information. Please contact me for submissions, comments, suggestions, or broken links.
---
Search this website using Google
Loading
---