Elk County, Pennsylvania Genealogy Project
A project of the Pennsylvania USGenWeb
Thank you to Bob Nay, Elk County Coordinator for providing The Elk County PAGenWeb Website and all his contributions.
Special Request
After many years of enjoyment being the Elk County Coordinator, I need to focus more of my time on personal health and family issues. As such if you would like to volunteer your genealogy interests to help others search for their roots in Elk County, please let us know. When I started I did not live in Elk County (still live in Florida) ,and knew nothing about web pages. It took a few months to undertand how this all works, and then I let my creative juices flow. It's been a real pleasure to help so many. Bob Nay

PLEASE VOLUNTEER SO THIS ELK COUNTY SITE CAN CONTINUE!!


Hi, and welcome to the Elk County Pa Genealogy Website

This Elk County Pa Genealogy Website is designed to help in your genealogy search for your ancestors and families in Elk County Pa. I will try to keep the resources and information as current as possible, and with your support in sharing your information we will help all of us enjoy the discovery of our family lines. Come back often to see the changes.
.















***The Right Stuff*** Lots of Genealogy Info and More Coming
There's a lot of information stored in these links below. It's almost overwhelming. But I've tried to make this info as specific to Elk County as I can. With the very generous help and support of those special few we have been adding a lot of primary information- most of which is being housed in the USGenWeb archives along with the Elk County genealogy resources below. The PA and National Archives links are well worth your time also. You will want to come back often and see how these sections specifically are growing. Thanks for sharing.


Special thanks to Iris and Sarah Caskey for giving us special permission to transcribe their cemetery information they have collected for their manuscript Cemeteries and Burial Plots of Elk County Pa. This was completed in 1991 and has a 1996 supplement. Also would like to thank Jim Burke and the Mt Zion Historical Society for updating the cemeteries in Jay and Benezette Townships. We will soon have the first comprehensive Elk County cemetery list on the internet. This is what sharing is all about. If you have updated or more accurate information please let us know.

Use the mailing list or message boards below- there's a wealth of knowledge and help there!
Remember Elk County was created on April 18, 1843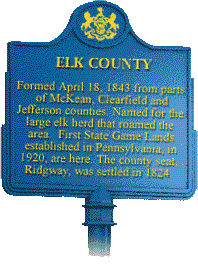 When searching genealogy records, remember Elk County was created on April 18, 1843 from parts of neighboring Jefferson, Clearfield and McKean Counties (check these sites and records also). To find even earlier records, also search these counties (earliest to present): Northumberland, Lycoming, Clearfield, Elk, and after 1850 in Gibson Township, Cameron Co. You might also look in Centre Co., because some Clearfield County's records are stored there. The county seat-Ridgway- was settled in 1824.
Be A Participant and Share Your Info on This Website

You can support our genealogy efforts by contributing any files, records, family stories; by volunteering your time, or making suggestions. Additionally you can contribute to the Pennsylvania genealogy project in the following links. I specifically could use volunteers to help with each township in developing up to date histories, cemetery records, special biographies, and ancestor files. I will try to work on Benezette and Jay townships, but definitely need help on the others. Please email if you can help out.


Elk County Related Archives- USGenWeb Project

USGenWeb Archives-Elk
(Births, Deaths, Obits, Marriages, tombstones, and much more)

Please Share Your Records:
( births, obits, wills, and many more)


US GenWeb Project
US GenWeb Archives


PA GenWeb Project
PA GenWeb Archives


Elk County Genealogy Resources & Links:

Cemeteries
Census
Family Group Project-Elk PAGenWeb
INTERNET RESOURCES, Wills, Bibles, Photos, and so much more
Genealogies/Special Rememberances/Family Group Sheets/




Our PAGenWeb Neighbors:

Jefferson ; Clearfield ; McKean ; Cameron ; Forest ; Warren




Forums &amp Search

Mailing Lists &amp Message Boards

Family Search Wiki-Elk County





Ancestor Search Engines

LDS Family Search
RootsWeb Search
World Connect
WorldGenWeb



Honoring our Veterans


Elk County Veterans Links


Elk County History

Elk County History Links
Elk County Historical Society
St Marys Historical Society



And Don't Forget The Elk



Elk Visitor Center Press Release




A Major Genealogy Regret
My one major regret in getting involved in my family histories / genealogy was that I didn't start sooner or listen better. I lost those opportunites to talk to my father, grandparents, and even a great-grand father and other relations who passed on before I got interested. So I recommend to all to not wait and even if you have a chance to encourage our young ones to learn their family stories. The USGenWeb Kidz is one resource you can take advantage of whether you are a teacher , parent, or grandparent. See also Genealogy for Kids and Genealogy Word Games. Have fun with our young ones by sharing stories you may only know- please pass it on.


This website was being maintained by Bob Nay. Click on Bob's name and search his family gedcom files which include ancestors that settled early in Jay and Benezette Townships- The Winslows,Ovells, Burkes, Hicks, and many more.

And last but not least--A special note of thanks and appreciation to Ellis Michaels-our neighboring PAGenWeb Clearfield County Genealogy Coordinator- and others (Judy Banja and Joe Patterson)for their assistance in helping me establish this genealogy website for Elk County
Comments and Suggestions
I'm very interested in your comments and suggestions to make this site useful and interesting to you.
Thank you and I hope you enjoy the site and information.
Copyright © 2008-2013 PaGenWeb, contributors and Bob Nay
All materials located on this website are the sole property of the webmaster and the original contributors (file donations). In developing this site I have attempted to honor all copyright provisions- if any corrections need to be made please email me. You may copy any of this information for your own personal research but please refrain from selling it commercially or reposting it online without permission from the author(s).
You are visitor number: since July 2008.
Provided by StatCounter.com