Cumberland ~ formed from Lancaster County in 1750
Welcome to Cumberland County home page. This site is part of the USGenWeb - PAGenWeb project. Devoted to free resources for genealogical research. To learn more about the history of the PAGenWeb project or to contact us for more information, visit ourAbout This Project page.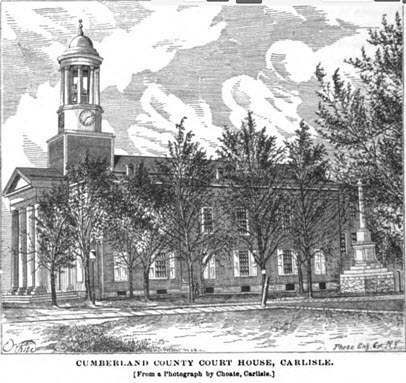 Cumberland county was named after a maritime county of England, bordering on Scotland. the name is derived fromthe keltic,Kinbriland, The Kimbrie,or keltic races, once inhabited the County of Cumberland in England.
Cumberland county was, when erected, the sixth county in Pennsylvania, Philadelphia,Bucks, and Chester having been established in1682, Lancaster 1729, and York 1749. Among other inhabitants of North or Cumberland Valley, were James Silvers and William Magaw, who presentedpetitions to the Assembly praying for the establishing of a new county. An act for that purpose was passed january 27, 1750. The commissioners appointed to carry out theprovisionsof the act of Assembly were Robert mcCoy,Benjamin Chambers, David Magaw, James McIntire and John mcCormick.
The act provided, establishing Cumberland, formed of part of Lancaster county, says: "That all and singular lands lying within the Province of pennsylvania, to the westwardof the Susquehanna, and northward and westward of the county of York, be erected into a county, to be called CUMERLAND; bounded northward and westward with the line of the Provinces, eastwaerd partyly with the Susquehanna and partly with said county of York; and southward, inpart by the line dividing said province from that of Maryland." To the end, that the boundaries between York and Cumberland may be better ascertained, it was further enacted that commissioners on the part of york county should be appointed to act inconjunction in the premises with the commissioners of Cumberland. The commissioners of york county were Thomas Cox, Michael Tanner, George Swope, nathan Hussey, and John Wright, Jr.
*History of the Commonwealth of Pennsylvania William Henry Egle 1830--1901 , published 1883
The USGenWeb Project is looking for a volunteer to adopt PAGenWeb Counties. Web and FTP experience is necessary, but you do not need to be an expert. Let us know if you would like to add to the obituary database. You can add one or ten obituaries at a time. Just include the name, age, date, newspaper and location. EMAIL