Cumberland ~ formed from Lancaster County in 1750
Welcome to the Cumberland County home page. This site is part of the USGenWeb - PAGenWeb project devoted to free resources for genealogical research. To learn more about the history of the PAGenWeb project or to contact us for more information, visit our About This Project page.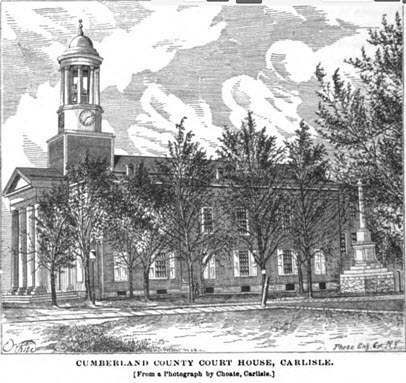 Cumberland County was established by an act of provincial Governor James Hamilton on January 27, 1750. Cumberland was named for a maritime county in England that borders Scotland, also called Cumberland.
Cumberland was the sixth Pennsylvania county following Philadelphia, Bucks, and Chester, est. 1682, Lancaster, est. 1729, and York, est. 1749. The county was formed from part of Lancaster County in response to how remote the Cumberland Valley was to the courts and other official offices in Lancaster.
The Cumberland Valley area was the frontier in the mid-1700s. Boundaries of the new county extended from the Susquehanna River and York County on the east, to the border with the province of Maryland on the south, to the western edge of the Pennsylvania province beyond present day Pittsburgh, and to the Blue Mountain in the north. The land area of the original county was so vast that land was later taken from Cumberland to form twelve new counties and parts of seven additional counties. The boundary of the county has remained unchanged since Perry County was formed in 1820. The county today is 34 miles long by about 16 miles wide. In area, it encompasses 544 square miles, or just over 348,000 acres.
Shippensburg was the only established town in 1750 so the first courts were held there in 1750 - 1751. Carlisle was formed in 1751 and the county seat was moved there in 1752, where it remains today.
The USGenWeb Project is looking for volunteers to adopt PAGenWeb Counties. Web and FTP experience is necessary, but you don't need to be an expert.
Let us know if you would like to add to our obituary database. You can add one or ten obituaries at a time. Just include the name, age, date, newspaper, and location.
If you'd like to adopt a Pennsylvania County or contribute to the obituary database, please send us an EMAIL.